No. 9 NC State's Women's Tennis Earns Highest Ranking in Program History
TEMPE, Ariz. — The NC State women's tennis team made history on Tuesday, checking in at No. 9 in the Oracle/ITA Division I Rankings, marking the program's highest ranking in its history. The announcement follows the Pack posting a 2-1 record on the weekend, including a 5-2 ranked win over No. 22 Wake Forest on the road. No. 8Anna Rogers also made program history in the singles rankings, topping her previous program-best No. 15 ranking.
The team is 21-4 (10-2) on the season. With the win over the Demon Deacons, the Pack made program history, posting its 20th win, which had never been accomplished before this season.

In its 2019 campaign, the squad has collected 10 ACC wins, eclipsing the program's previous record of eight conferences wins in a season.

Its 3-1 start to conference play was its best in at least 20 years.

Checking in at No. 8, Rogers reaches the highest singles ranking in program history. Playing on court one, the junior has posted a 29-10 record this season, including a 19-4 record in dual season.
Rogers is currently on an 11-match winning streak with wins over six ranked opponents during the stretch. In her past four singles matches, the Stamford, Conn., native has faced four ranked opponents, needing only straight sets to claim victory.

She has totaled 16 ranked singles wins this season.

Rogers set the previous program standard for the highest singles ranking last week, checking in at No. 15.

Alana Smith is tabbed at No. 93 in the singles rankings. The four-time ACC Women's Freshman of the Week has defeated four ranked singles opponents this season, including a top-10 win over No. 10 Marta Gonzalez (Georgia).
Adriana Reami, tabbed at No. 110, boasts a 17-5 record in dual season and has defeated four ranked opponents in her 2019 campaign.
Rogers and Smith hold steady at No. 9 in the doubles rankings. The junior-freshman duo has collected 27 wins this season and has won eight out of its last 10 doubles matches. Impressively, they have posted a 10-3 record against nationally ranked opponents, including two top-five wins (No. 5 Janet Koch and Nina Khmelnitckaia – Georgia, No. 4 Marie Leduc and Fernanda Navarro – Clemson).
Up Next
The No. 9 Pack will be back in action Wednesday, April 7 at No. 4 Duke at 6 p.m.
NC State's Week 1 Depth Chart Against UCONN (with Notes)
NC State will kick off their 2023 Football season next Thursday night against UCONN at 7:30pm. The Wolfpack released their Depth Chart for the game today.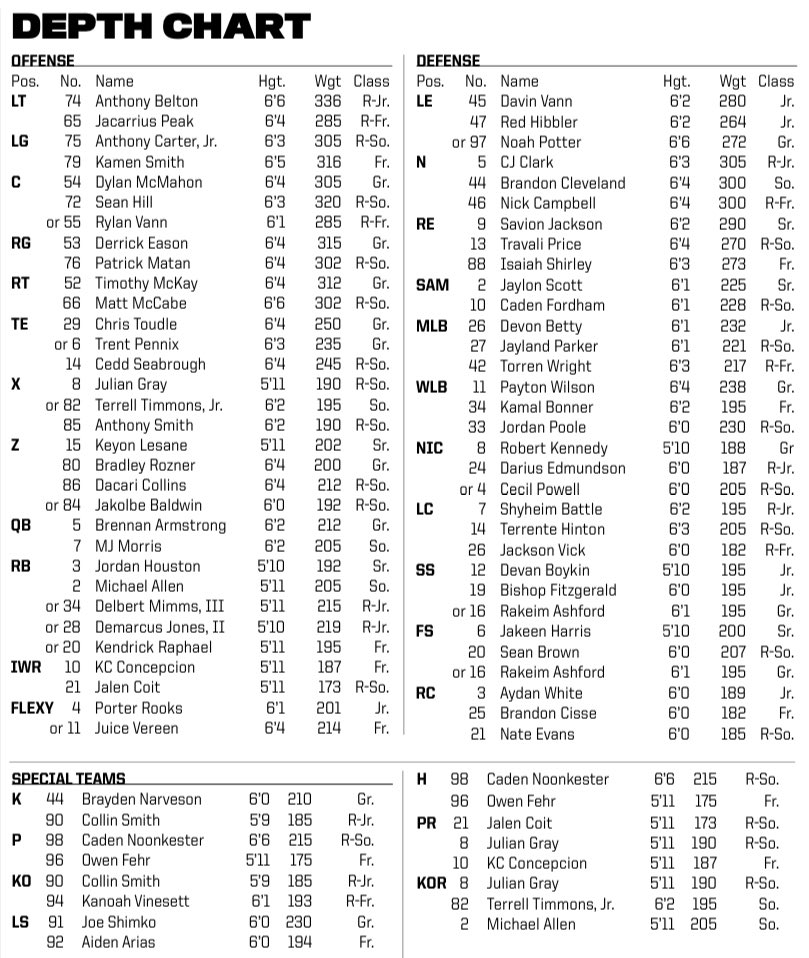 Notes
Redshirt Sophomore Anthony Carter Jr. is listed as the starting Left Guard. If Redshirt Sophomore Lyndon Cooper wasn't missing the first game due to injury, I wonder if Carter would be starting. Doeren did praise Carter in his press conference today. Also, he stated that Cooper should be back for the Notre Dame game.
Noticeably, Graduate Transfer Offensive Lineman Dawson Jaramillo is also missing from the Depth Chart. Unfortunately, Jaramillo has suffered an injury, and will miss the entirety of the 2023 season. This is a huge blow for Jaramillo, and a huge blow for the depth of the Wolfpack Offensive Line. Jaramillo was a Swiss Army knife, having the ability to play in numerous positions.
Very often, Doeren has stated that the "Or" in between two names means that the coaching staff sees both players as starters. There is an "Or" in between Chris Toudle and Trent Pennix at Tight End, with the former being listed first. Maybe it doesn't matter whose name is listed first, but I'm shocked Pennix's name wasn't the one at the top.
I'm not shocked that Julian Gray and Keyon Lesane are listed as the starters at the X and Y Wide Receiver positions. They both have had a lot of buzz surrounding them in Fall Camp, and Lesane was named a captain. Obviously, with Gray's speed, Offensive Coordinator Robert Anae is going to want to find a way to get the ball in his hands. With that being said, and this is no disrespect to the two of them, but both of them are 5'11", which isn't exactly the way you would sculpt your prototypical outside receivers. I expect Terrell Timmons and Bradley Rozner to both be heavily in rotation at the X and Y, to give the outside receivers a good dose of speed as well as height.
True Freshman Running Back Kendrick Raphael might be buried at the bottom of the Depth Chart at his position, but I bet he sees a carry before Mimms or Jones. Doeren mentioned that we would see Raphael against UCONN, but didn't mention Jones or Mimms. Anae likes to run 2 Running Back sets, with one of them almost functioning like a Full Back. As a result, I'm not shocked to see Jones and Mimms where they are in the Depth Chart.
Props to True Freshman Kevin Concepcion for earning the starting job at the Inside Wide Receiver position. Get ready to hear his name a lot this year. KC is backed up by Redshirt Sophomore Jalen Coit, who Doeren spoke highly of today.
Junior Porter Rooks is no longer sitting behind Thayer Thomas on the Depth Chart. Doeren said that Rooks has had a great camp. The former 4-Star prospect has an opportunity to show that those stars meant something by his name. With that being said, he will be pushed by True Freshman Javonte "Juice" Vereen, who even has national media buzzing about him heading into the season.
Three True Freshman are on the Offensive Depth Chart: Left Guard Kamen Smith, IWR Kevin Concepcion and FLEXY Juice Vereen.
True Freshman Kamal Bonner is 2nd on the Depth Chart at the Will Linebacker spot, backing up Payton Wilson. What's noteworthy, is that he's ahead of former 4-Star prospect Jordan Poole in the Depth Chart. Bonner must have made a heck of a first impression.
As expected, ODU Graduate Transfer Robert Kennedy is starting at Nickel.
True Freshman Brandon Cisse is backing up Aydan White at Right Corner, and Doeren said we should expect him to contribute.
Redshirt Sophomore Jalen Coit will be filling in the shoes of Thayer Thomas at Punt Returner.