NC State's James Smith-Williams Ranked #3 "Freak" on The Athletic's Preseason List
NC State Graduate Senior Defensive End James Smith-Williams becomes more and more of a FREAK as each year goes by. Prior to last season, Smith-Williams ranked 27th on The Athletic's Preseason list of the top "Freaks" in college football. This year he enters his final season ranked 3rd on Bruce Feldman's list.

3. James Smith-Williams, NC State, Defensive End

No player on this entire list has had the type of transformation that Smith-Williams has had. He arrived five years ago weighing a spindly 196 pounds. Now he's a hulking 265. He benches 420, doing 27 reps at 225. He squats 620 and cleans 374. Smith-Williams vertical jumps 40 inches and has clocked a 4.43 in his pro agility time. Earlier this week, he ran an electronically timed 40 at 4.58. The hand time was 4.52.

Smith-Williams is one of the most respected players in the Wolfpack program. He's already graduated, interned two years with IBM and has a job once football is over.

Dantonio Burnett, State's strength coach, says of Smith-Williams, "He has learned how to translate the athletic development (weight training) over to the field. This was the same thing we saw with those other four D-linemen that got drafted. Once they figured it out and put it all together, they became really good players. He's taken the blueprint that Bradley, BJ (Hill), Justin (Jones) and (Kentavius) Street put into place and has ran with it. He's always getting the young guys together to do extra work. He's taken on the leadership role and he's definitely primed for a big year."


The Athletic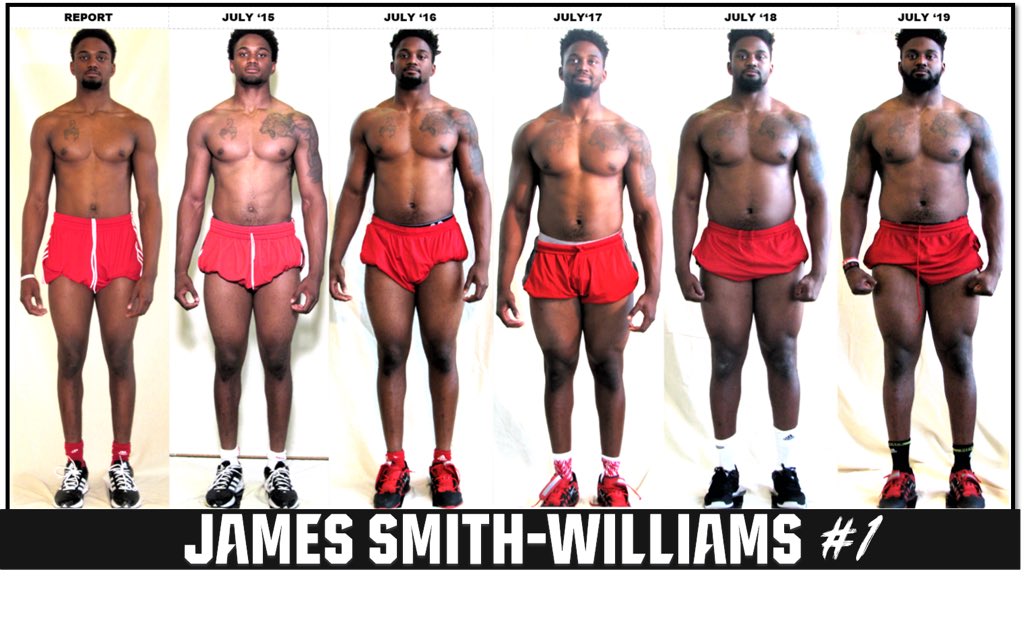 Smith-Williams graduated in December with a degree in Business Supply Chain Management, a 3.0+ GPA, with All-ACC Academic honors. He was a paid intern with IBM last summer, and has already been offered a full-time job after he graduates.
Last season was his first year as a starter, playing behind the shadow of Bradley Chubb and Kentavius Street before that. As a Redshirt Junior, Smith-Williams he tallied 9.5 tackles for loss and 6 sacks.
VIDEO: NC State WR CJ Riley is Ready to Fill Big Shoes
Redshirt Junior Wide Receiver C.J. Riley has some big shoes to fill in 2019, but after catching up with him at NC State's 2019 Media Day, he believes he is more than up for the task.
We sat down with Coach McDonald, and our goal is to have three 1,000-yard receivers this year, with me, Emeka (Emezie) and Thayer (Thomas). We're working to do better than they did last year (Two 1,000-yard receivers in Kelvin Harmon and Jakobi Meyers).
We just want to prove people wrong, and show them we can do things they didn't think we could do.
I learned a lot from their (Harmon and Meyers) work ethic. How they carried themselves off the field. They came in every day like it was gameday. Staying after practice catching balls. Watching extra film.
Emeka and I have a goofy relationship. We love each other, and hate each other sometimes. We argue. We're competitive. It's the best of both worlds. We're happy for each other when they succeed. It's a great relationship.
I need to make more consistent plays down the field in 2019. Show that I can run past defenders and make the deep ball plays.
Freshman Keyon Lesane has done a great job thus far in camp. He has shown he can play on the field on Saturdays. He has a hot head, and won't back down from anyone.
Redshirt Junior Eric Collins is showing up a lot more. Catching the ball and being a more consistent ball player.
Graduate Senior Tabari fits well. He's played in the ACC before, and knows how it goes. Having his experience come into the room is going to be a big help.