Doeren: Maryland WR Transfer Darryl Jones Has Stood Out the Most Through 1 Week
Entering the 2022 season, it is assumed that Quarterback Devin Leary's two primary Wide Receiver targets will be Thayer Thomas (R-SR) and Devin Carter (R-JR). The two of them combined for 82 receptions, 1,152 receiving yards and 14 touchdowns in 2021.
The question has been who would be the wideout to be the #3?
Would it be Sophomore Porter Rooks (23 receptions/298 yards)? Junior Keyon Lesane (8 receptions/66 yards)? Sophomore Anthony Smith (4 receptions/97 yards/1 TD)? Redshirt Freshman Julian Gray (3 receptions/18 yards?
While all 4 of these guys have the potential to break out in 2022, Wolfpack Head Coach Dave Doeren gave a hint today after practice that Maryland Graduate Transfer Darryl Jones might just be the guy.
When asked if there was one player on the team who has really stood out through one week of practice, Doreen's answer was Darryl Jones.
"Darryl Jones would be one just because he was out most of the spring with a hamstring. Being able to watch him now for seven practices and see his growth, he's what we thought he was going to be, but we didn't know because he was hurt all spring. His name comes to mind, for sure." (Link)
Jones is a former consensus 4-star recruit out of Princess Anne High School in Virginia Beach, Virginia.
Experience is what the fellas behind Thomas and Carter lack, but Jones has it in spades, playing in 28 games over the past 4 seasons at Maryland. Last season Jones had 23 receptions for 319 yards and 2 touchdowns for the Terrapins.
Jones saved his best for last, reeling in 4 receptions for 111 yards and a touchdown in Maryland's 54-10 victory over Virginia Tech in the Pinstripe Bowl.
Thayer Thomas has primarily worked out of the slot throughout his career, but has been working outside some through the Spring and Fall camp, in case someone else didn't rise up on the outside. Standing at 6'3", Jones might just be the man for the job, standing on the opposite side of the field from Carter, freeing up Thomas to do what he does best.
Maryland's offense with the response.

A 70 yard touchdown pass on the first play of the drive from Taulia Tagovailoa to Darryl Jones puts Maryland up 14-3. pic.twitter.com/9jNdi4SxkY

— Testudo Times (@testudotimes) December 29, 2021
A few clips from the coaches tape I see of NC State's newest transfer receiver, Darryl Jones. pic.twitter.com/dLJL0wLA8n

— Phillip Danford (@PDanford21) January 8, 2022
NC State's Depth Chart vs. Clemson with Notes
NC State's Football team has released their Depth Chart for this Saturday's game vs. Clemson on the road at 7:30pm.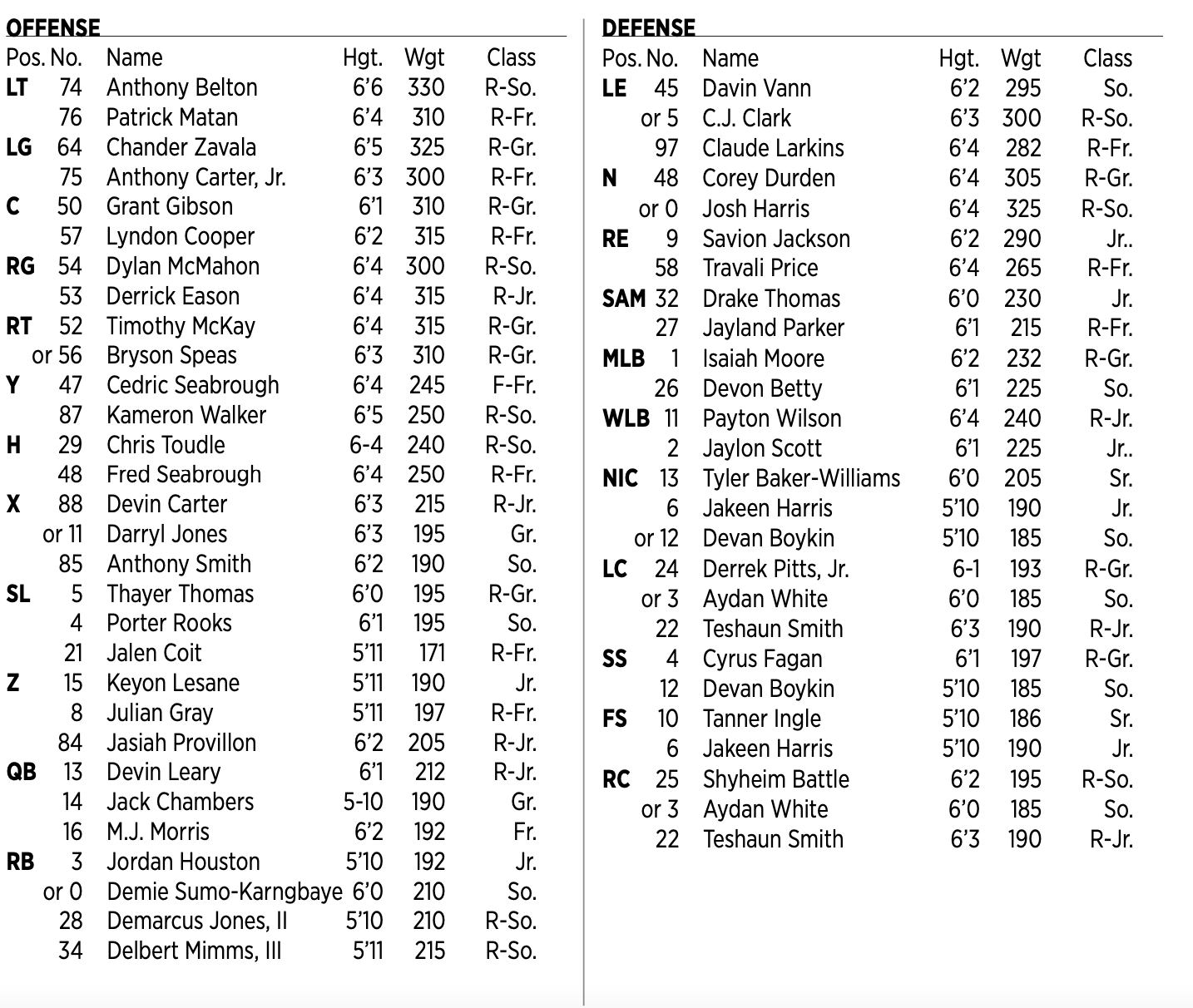 Notes
There have been a few significant changes on this weeks Depth Chart:
Graduate Timothy McKay has moved into the starting spot at Right Tackle. Graduate Bryson Speas has been listed as the starter on the first 4 Depth Charts, but McKay actually ended up starting the game against UCONN.

This isn't a shocking move. Even though Speas has started 3 games out of 4, McKay has played 72 more snaps on the year. Also, According to PFF grades, McKay's grade on the season is 74.6 on the year, compared to Speas' 73.2.
Interestingly, McKay is stronger in run block (82.2/69.1), and Speas is stronger in pass block (83.8/70.1). McKay is the Wolfpack's highest graded run blocker.
Also, it's worth noting, while McKay is listed as the starter, there is an "or" in between their names.

Things have been shaken up in regards to Senior Tyler Baker-Williams at Nickel.

Sophomore Joshua Pierre-Louis has been listed as the backup in the first 4 depth chart's, but he isn't anywhere to be found on this weeks depth chart.
Junior Jakeen Harris, who has been listed as Senior Tanner Ingle's backup at Free Safety all year, is listed as Baker-Williams backup at Nickel now.

He is still also listed as the backup for Ingle at Free Safety.

Sophomore Devan Boykin is listed as the third Nickel, with an "or" in between his name and Harris.

Boykin is still listed as Graduate Cyrus Fagan's backup at Strong Safety, which is where he's been listed all year.