History of the NC State vs. UCONN Football Series
Tomorrow night NC State will host UCONN in Carter-Finley Stadium for the 3rd matchup between the two schools, with the Wolfpack winning the first two games.
The Wolfpack are 38.5-point favorites over the Huskies, but the first two games of the series were far from blowouts.
The series kicked off in 2003, when UCONN came to Raleigh as 17.5 point underdogs. The Wolfpack and the Huskies were tied 10-10 at halftime, but Linebacker Freddie Aughtry-Lindsay, currently serving at NC State's Coach of the Nickelbacks, returned a fumble 48 yards for a touchdown in the 3rd quarter. At the end of the 3rd quarter, Quarterback Philip Rivers found Tight End T.J. Williams for a score, giving NC State a 14-point lead heading into the 4th.
UCONN proceeded to score 14-points unanswered in the 4th quarter to tie the game 24-24, and had the ball on their own 14-yard line with 47 seconds left to play in the game. They made it to their own 42-yard line, but after the Huskies quarterback was hit by Linebacker Pat Thomas, it would be Aughtry-Lindsay once again with the heroics, intercepting the ball, taking it back to the house for a 56-yard return for a touchdown.
In 2012, NC State travelled up to Connecticut as 4-point favorites. The game was a defensive showdown, with the Wolfpack leading 3-0 at the half, with the only points coming off of a 40-yard field goal by Niklas Sade. In the 3rd Quarter, NC State Quarterback Mike Glennon found Wide Receiver Bryan Underwood for a 46-yard touchdown.
The Huskies would make things interesting, scoring on a 5-yard touchdown with 7 minutes left to go in the 4th Quarter, and managed to get the ball back in their hands with 3:18 left on the clock.
UCONN moved the ball from their own 27-yard line to their 46-yard line, but after a sack by Linebacker Brian Slay on 3rd and a pass breakup by Cornerback David Amerson on 4th, the Huskies ran out of opportunities.
NC State's Depth Chart vs. Clemson with Notes
NC State's Football team has released their Depth Chart for this Saturday's game vs. Clemson on the road at 7:30pm.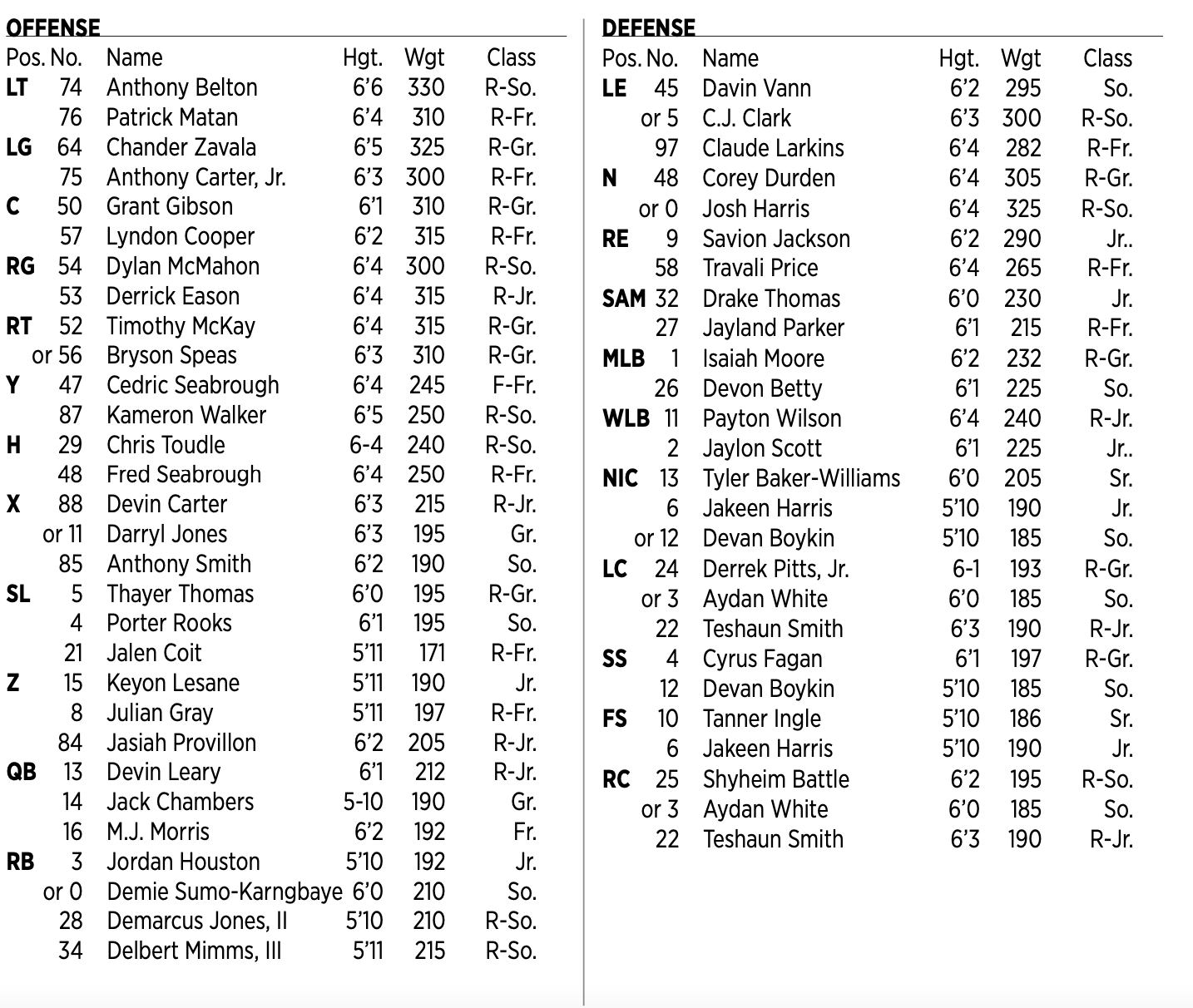 Notes
There have been a few significant changes on this weeks Depth Chart:
Graduate Timothy McKay has moved into the starting spot at Right Tackle. Graduate Bryson Speas has been listed as the starter on the first 4 Depth Charts, but McKay actually ended up starting the game against UCONN.

This isn't a shocking move. Even though Speas has started 3 games out of 4, McKay has played 72 more snaps on the year. Also, According to PFF grades, McKay's grade on the season is 74.6 on the year, compared to Speas' 73.2.
Interestingly, McKay is stronger in run block (82.2/69.1), and Speas is stronger in pass block (83.8/70.1). McKay is the Wolfpack's highest graded run blocker.
Also, it's worth noting, while McKay is listed as the starter, there is an "or" in between their names.

Things have been shaken up in regards to Senior Tyler Baker-Williams at Nickel.

Sophomore Joshua Pierre-Louis has been listed as the backup in the first 4 depth chart's, but he isn't anywhere to be found on this weeks depth chart.
Junior Jakeen Harris, who has been listed as Senior Tanner Ingle's backup at Free Safety all year, is listed as Baker-Williams backup at Nickel now.

He is still also listed as the backup for Ingle at Free Safety.

Sophomore Devan Boykin is listed as the third Nickel, with an "or" in between his name and Harris.

Boykin is still listed as Graduate Cyrus Fagan's backup at Strong Safety, which is where he's been listed all year.