NC State Has Owned UNC In Football Over the Last 15 Years
Yes, UNC holds a significant advantage over NC State in the overall football series that dates back to 1894: 68-38-6.
That's pretty lopsided in the favor of the Tar Heels. I won't deny that.
But, history matters.
Most of UNC's lead in the series came in the first 45 games…roughly the first 6 decades of the series.
From 1894 to 1940, NC State only won 3 out of the first 34 games they played against UNC (3-25-6). Going forward 15 more years, NC State only won 5 of the first 45 games against UNC.
Prior to the formation of the ACC in 1953, UNC's record against NC State was 31-5-6.
Things have been much more even between the two rivals since the formation of the ACC, with the Heels holding a slight 37-33 advantage.
After 1953, things were even between the two schools for the first 26 years of the ACC, with NC State and UNC winning 13 games each.
Since then, 3 Wolfpack coaches records against UNC are really the reason NC State has a losing record (33-37) against the Tar Heels in ACC play: Monte Kiffin, Tom Reed and Mike O'Cain.
Kiffin and Reed combined to lose 6 straight to UNC from 1980-85, and Mike O'Cain never beat the Heels, going 0-7 against them from 1993-99.
In between Reed and O'Cain, Dick Sheridan owned UNC, winning 6 out of 7 against the Heels from 1986-92.
After O'Cain, Chuck Amato was 3-4, Tom O'Brien was 5-1 against them, and Dave Doeren is 6-4.
Alright, enough with the history lesson. What's my point in all this?
Well, we live in a 'what have you done for me recently' world.
UNC fans are always pointing out the fact that we have to look back to 1983 and 1974 to relish in our National Championships in basketball, but we haven't done anything significant since then.
Fair point.
Let me take the same logic with football.
You have to go back a long time on the gridiron since UNC has dominated NC State.
Here's what NC State has done against UNC recently.
NC State has won 2 in a row against UNC.
NC State has won 3 of the last 5 against UNC.
NC State has won 5 of the last 7 against UNC.
NC State has won 6 of the last 10 against UNC.
NC State has won 10 of the last 15 games against UNC.
If you're a recruit in the state of North Carolina, know this…in your lifetime, the boys in Red have had the number of the boys in baby Blue. Choose wisely.
NC State's 2023 Football Schedule has Arrived!
NC State's 2023 Football schedule was released yesterday.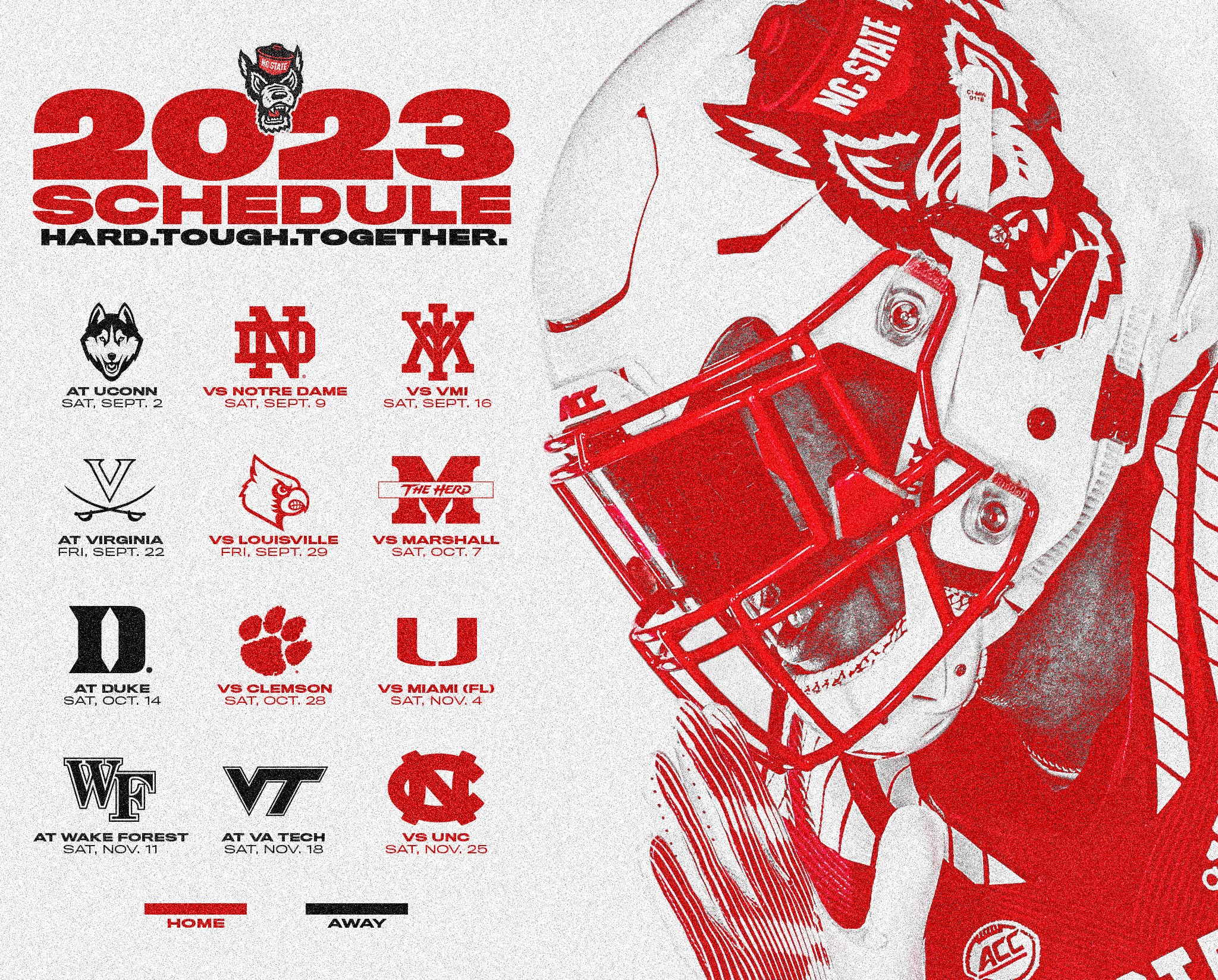 Notes
NC State will play all three in-state ACC rivals: UNC, Duke and Wake Forest
NC State has two Friday night games back to back: UVA & Louisville
NC State will play Quarterback Brennan Armstrong's former team UVA on 9/22.
NC State will host Notre Dame for the 2nd time ever, and will face a familiar face in former Wake Forest Quarterback Sam Hartman.
In the first year without Divisions in the ACC, 5 of NC State's 8 conference opponents will be teams that were in the Coastal Division last year: UVA, UNC, Miami, Duke, VT.

The three former Atlantic Division opponents are: Clemson, Wake Forest and Louisville