Sports Illustrated makes their predictions for #13 NC State's week one matchup with ECU
NC State opens the season at 10-point favorites at ECU, but there are a lot of pundits out there pointing out NC State's struggles when entering a season with high expectations.
Sports Illustrated just released their week 1 predictions, noting ECU's habit of laying Power 5 giants. However, that seems to be a dated narrative. The last major win for ECU was in 2016 when they knocked off the Wolfpack. The year prior, 2015, they beat Virginia Tech, and the year before that they took down both Virginia Tech and UNC. In 2017 they beat a struggling Cincinnati team, and in 2018 they beat UNC again.
However, since then, ECU hasn't really taken out any college football giants.
That said, it's ECU's super bowl, so you're going to get their best shot and you can't take them lightly.
Despite SI noting ECU as a giant slayer (debatable lately) they still predict the Wolfpack to not only cover the spread and win by 14. Here is what they had to say.
—–
NC State (-11) at East Carolina, Noon on ESPN. ECU has a habit of beating Power 5 teams, including the Wolfpack, in recent memory, but the visitors return 80% of their production from a year ago, a group that beat Clemson, including star quarterback Devin Leary. ATS pick: NC State by 14, covers
—–
Most NC State fans are prepping for a hard-fought match that stays close throughout, but the talent gap is wide, and if the Pack plays to their expected level, there's no reason to think ECU has the horses to keep up.
NC State's 2023 Football Schedule has Arrived!
NC State's 2023 Football schedule was released yesterday.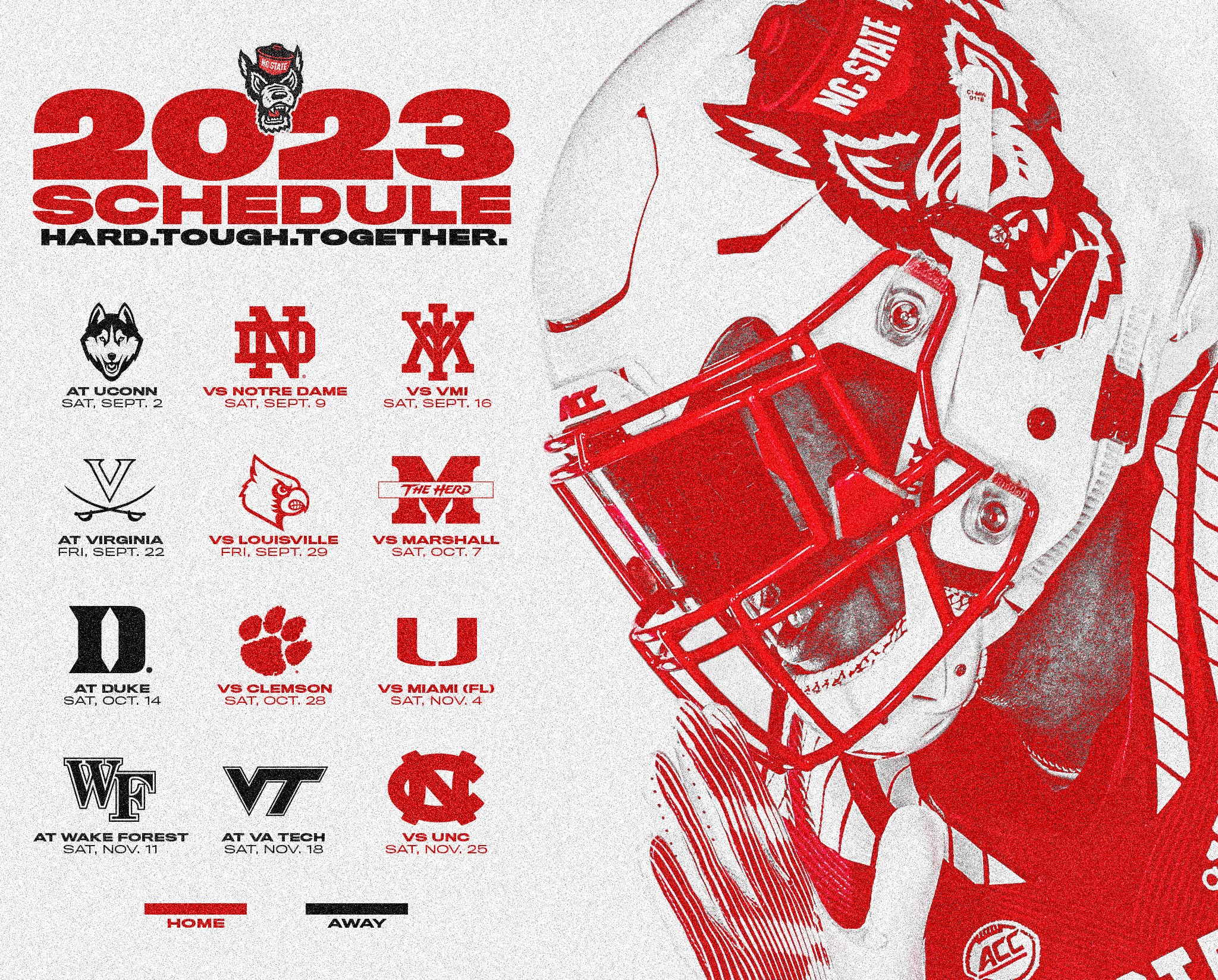 Notes
NC State will play all three in-state ACC rivals: UNC, Duke and Wake Forest
NC State has two Friday night games back to back: UVA & Louisville
NC State will play Quarterback Brennan Armstrong's former team UVA on 9/22.
NC State will host Notre Dame for the 2nd time ever, and will face a familiar face in former Wake Forest Quarterback Sam Hartman.
In the first year without Divisions in the ACC, 5 of NC State's 8 conference opponents will be teams that were in the Coastal Division last year: UVA, UNC, Miami, Duke, VT.

The three former Atlantic Division opponents are: Clemson, Wake Forest and Louisville