What We're Hearing About A Candidate for the NC State Offensive Coordinator Position
NC State is in the hunt for a new Offensive Coordinator after Tim Beck accepted the Head Coaching position at Coastal Carolina earlier today.
As a result of taking the position at Coastal Carolina, Beck will not serve as the Wolfpack's Offensive Coordinator in the Duke's Mayo Bowl against Maryland on December 30th. Rather, NC State Running Back's Coach Kurt Roper will be calling the plays in the Bowl game.
RBs coach Kurt Roper will call plays for NC State's offense against Maryland.

— David Thompson (@daveth89) December 4, 2022
The question now is, who will fill Beck's shoes as the Offensive Coordinator at NC State?
From what I'm hearing, there is significant interest from NC State in Willy Korn, the Co-Offensive Coordinator at Coastal Carolina, and the interest is apparently mutual.
Would be kind of crazy, right? The Wolfpack's Offensive Coordinator becomes the Head Coach at Coastal, and then their Offensive Coordinator becomes the Offensive Coordinator at NC State.
This is Korn's 6th season on staff at Coastal. In his first two seasons, he served as the Chanticleers' Wide Receiver's Coach, but beginning in 2019, Korn stepped into the position of Co-Offensive Coordinator and Quarterbacks Coach.
In 2021, Korn led Coastal to have the most efficient passing attack in the FBS. The Chanticleers' offense under Korn ranked 4th in completion percentage, 5th highest in total offense. Coastal was just 1 of 5 teams to average over 40 points per game in 2021.
This year, Coastal ranks 8th in the FBS in team passing efficiency.
Over the past couple of years, Korn has developed Quarterback Grayson McCall, a former 2-star recruit, into being a legitimate NFL prospect. McCall has been one of the best Quarterback's in the nation under Korn.
Check out McCall's stats over the past three seasons: 8,019 yards, 77 touchdowns, 8 interceptions, 70.4%, 187.7 passing efficiency rating.
Korn is only 33 years old, and is one of the most promising offensive minds in College Football.
NC State's 2023 Football Schedule has Arrived!
NC State's 2023 Football schedule was released yesterday.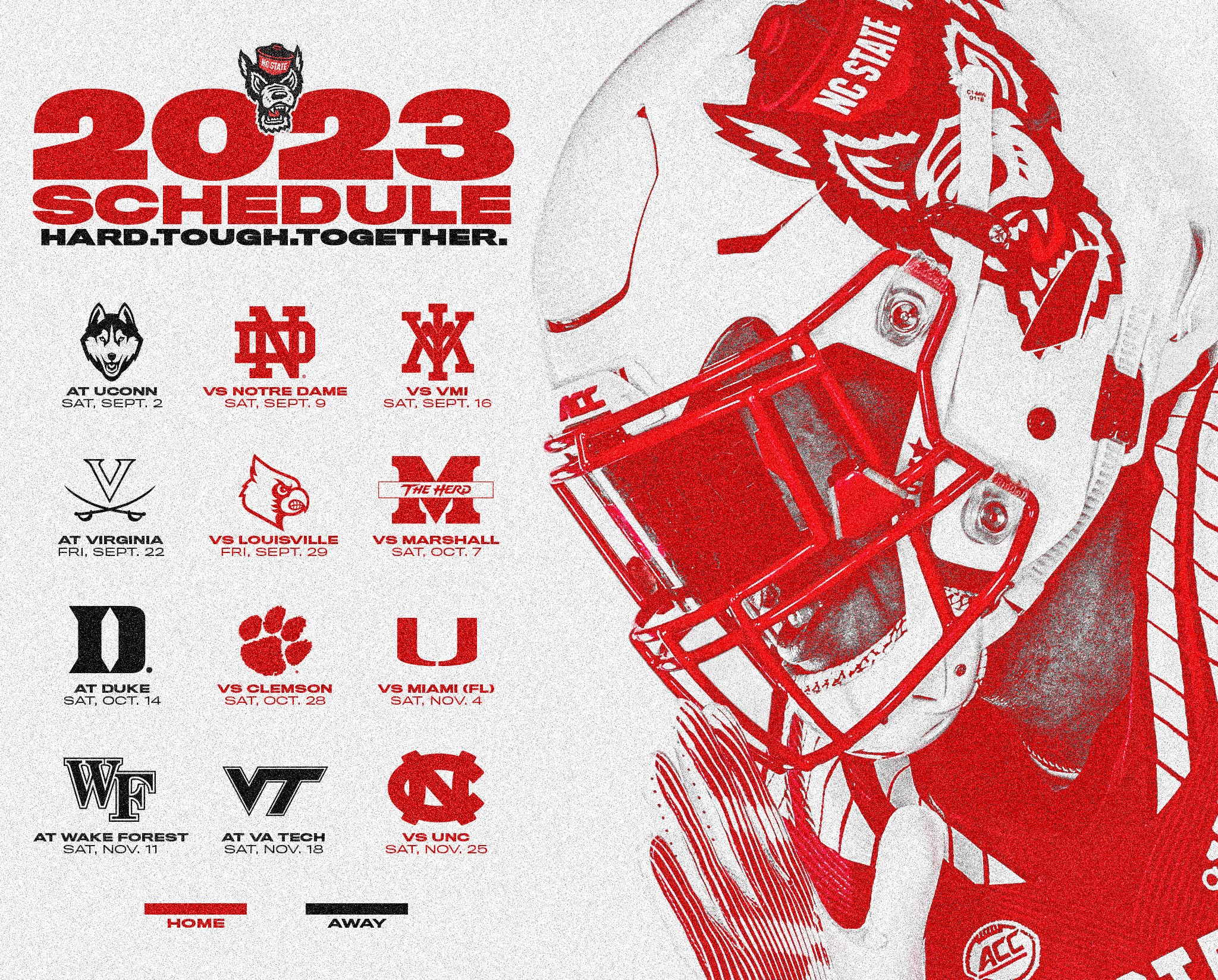 Notes
NC State will play all three in-state ACC rivals: UNC, Duke and Wake Forest
NC State has two Friday night games back to back: UVA & Louisville
NC State will play Quarterback Brennan Armstrong's former team UVA on 9/22.
NC State will host Notre Dame for the 2nd time ever, and will face a familiar face in former Wake Forest Quarterback Sam Hartman.
In the first year without Divisions in the ACC, 5 of NC State's 8 conference opponents will be teams that were in the Coastal Division last year: UVA, UNC, Miami, Duke, VT.

The three former Atlantic Division opponents are: Clemson, Wake Forest and Louisville