Devin Leary's Legacy at NC State
Earlier today news broke that Wolfpack Redshirt Junior Quarterback Devin Leary was entering his name into Transfer Portal. As a result, I wanted to take some time to highlight the legacy that Leary leaves at NC State.
Even though Leary played 4 seasons on the field at NC State, he only played in 30 career games for the Wolfpack, with that number being lowered due to injuries in 2020 and 2022, and competition in 2019, starting only the final 5 games. Taking that into consideration, the numbers that Leary put up at NC State are even more impressive.
Leary leaves NC State ranked 6th in career passing yards, 4th in touchdown passes, and 4th in completion percentage.
Leary also ranks 3rd in school history in career passing efficiency rating (139.0), trailing only Philip Rivers (144.2) and Ryan Finley (140.0).
He also ranks 2nd in school history in interception avoidance (1.69), trailing only Jacoby Brissett (1.44).
In 2021, Leary threw 35 touchdowns, setting the new school record for touchdowns thrown in a single season, passing Philip Rivers record of 34.
Plain and simple, Leary was one of the best to ever play the position at NC State, and that's saying a lot!
NC State's 2023 Football Schedule has Arrived!
NC State's 2023 Football schedule was released yesterday.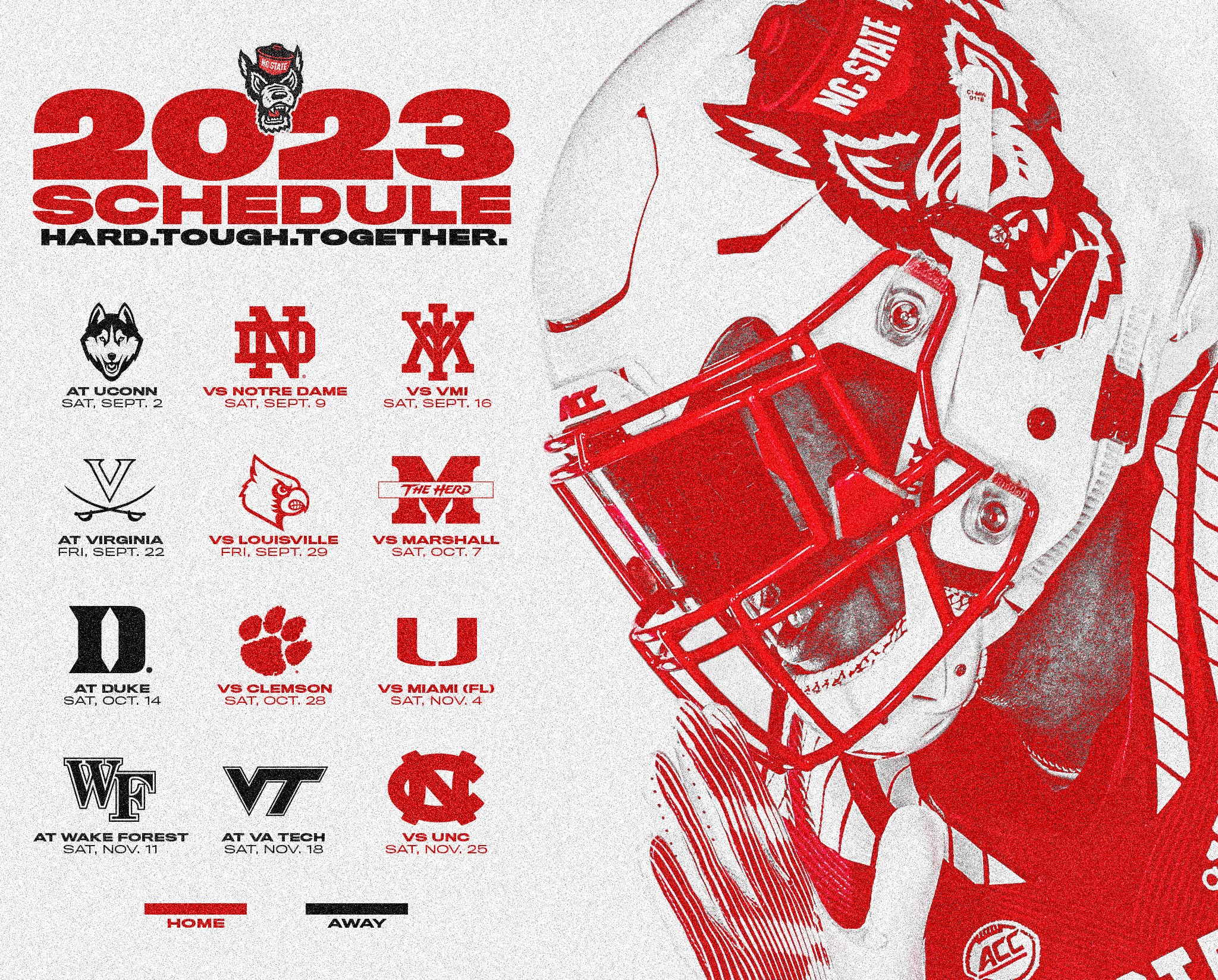 Notes
NC State will play all three in-state ACC rivals: UNC, Duke and Wake Forest
NC State has two Friday night games back to back: UVA & Louisville
NC State will play Quarterback Brennan Armstrong's former team UVA on 9/22.
NC State will host Notre Dame for the 2nd time ever, and will face a familiar face in former Wake Forest Quarterback Sam Hartman.
In the first year without Divisions in the ACC, 5 of NC State's 8 conference opponents will be teams that were in the Coastal Division last year: UVA, UNC, Miami, Duke, VT.

The three former Atlantic Division opponents are: Clemson, Wake Forest and Louisville