NC State's Tyler McDonough Collects Collegiate Baseball Freshman All-America Honors
RALEIGH – Tyler McDonough of the NC State baseball team collected freshman All-America honors from Collegiate Baseball on Wednesday, becoming the third player this season to earn an award from the publication.
An All-ACC Second Team and ACC All-Freshman selection, he is the 16th player in program history to collect the honor.

A Liberty Township, Ohio, native, McDonough led the team and all freshmen in the Atlantic Coast Conference with 80 hits, including 25 multi-hit performances. He started 60 games in center field and compiled a perfect 1.000 fielding percentage.
McDonough turned in three four-hit outings in ACC play, highlighted by his 4-for-5 showing vs. Wake Forest on April 20 when he was a single shy of hitting for the cycle. He also went 4-for-5 on March 10 vs. Pittsburgh and March 15 vs. then-No. 1 Florida State.
Additionally, he finished third on the team with a .320 clip and 47 runs batted in while stealing a team-best 10 bases out of 12 attempts, as those numbers rank top seven among all freshmen in the ACC.
NC State Releases 2020 Baseball Schedule
The NC State 2020 Baseball schedule was released today.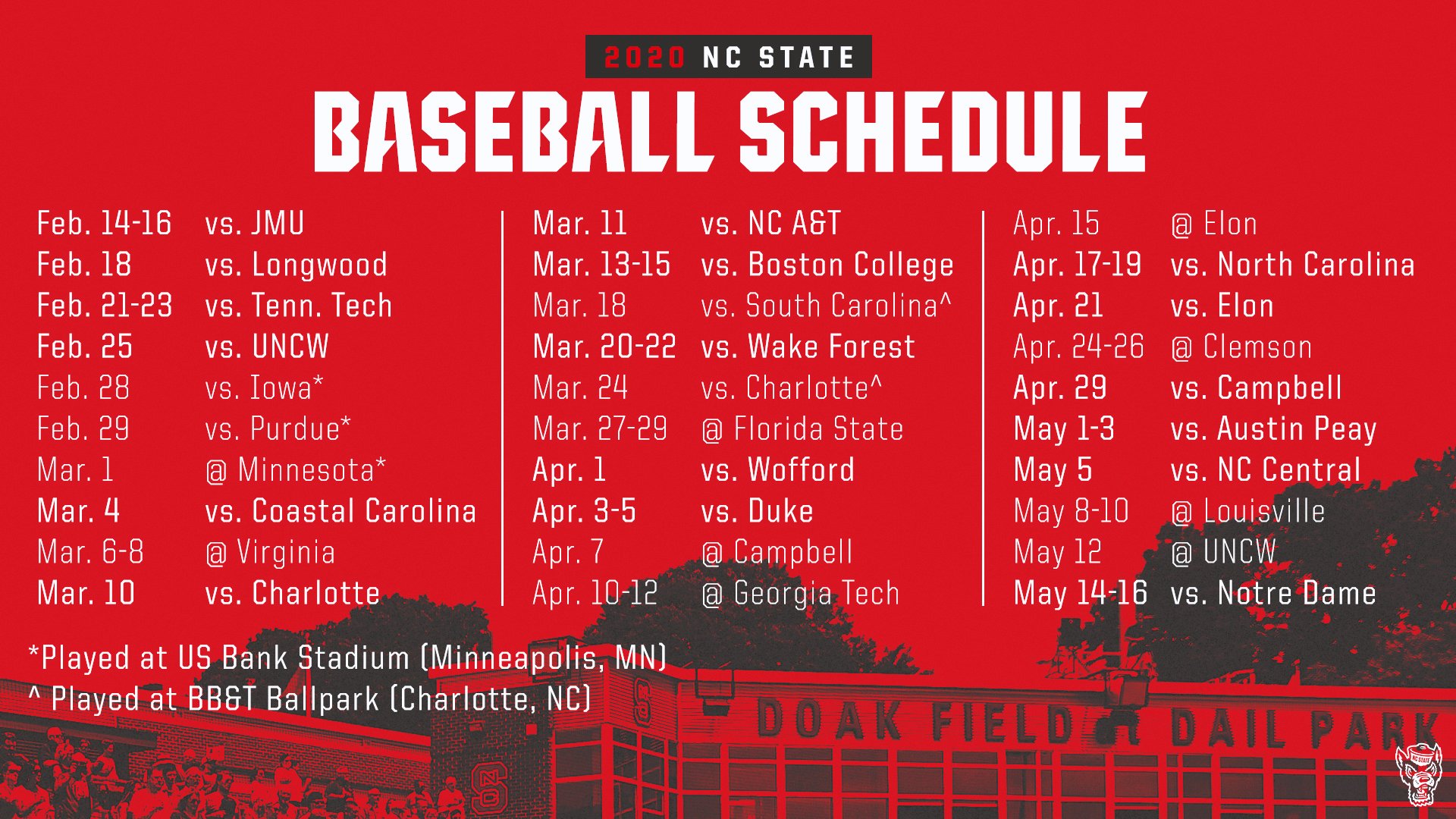 The schedule features 23 games against 2019 NCAA Tournament opponents, including three-game series at Florida State and Louisville, who both advanced to the College World Series last season. The Wolfpack's slate additionally features 13 opponents and a combined 31 games against teams that finished the 2019 season among the top 100 of the NCAA RPI.

NC State's nonconference schedule is highlighted by games against Iowa, Minnesota and Purdue Feb. 28-March 1 at the US Bank Stadium, home of the Minnesota Vikings. The weekend in Minneapolis is a part of the ACC/Big Ten Challenge. The Pack will also play a pair of games at BB&T Ballpark in Charlotte, N.C., home of the Charlotte Knights, AAA affiliate of the Chicago White Sox, against Charlotte and South Carolina March 18 and 24, respectively. (GoPack)
NC State finished the 2019 season with a 42-19 record, and a 18-12 conference record. They finished the regular season ranked 13th nationally, and 3rd in the ACC.
The Wolfpack finished the year ranked 21st in the final Collegiate Baseball Rankings.