Why Yes, We Did Make A Gus Johnson Bingo Card
That's right, download it right here. (Limited to 150 cards, also no actual prizes beyond pride)
Over the years, there is only one everlasting truth; When Gus Johnson calls a game, it's an instant classic.
When NC State meets UCLA in San Diego, we have all the reasons in the world that it's going to be a great game. Gus Johnson is a big part of that. Here is a casual, GJ Bingo-esche, list of future moments.
First-Time Ever in Petco Park
The start of the broadcast is gonna go heavy on this point. Get ready for some of the following statements;
"For the first time EVER, we bring the gridiron to San Diego's past time."
"Tonight, we're trading baseballs for footballs, it's the Holiday Bowl.
"I tell you what, this game in this park, is just another holiday gift."
"Just look at this site…what an evening, what a ballpark."
Then you're also going to get some baseball references each quarter…
"Leary going for the home runnnnnnnnnnn!!!"
"Thompson-Robinson's throw, juuuuussssssttttt a bit outside there."
While we're here, look at this beauty…
Let's Chat about San Diego
We're guaranteed a little San Diego talk in there too.
"My oh my, San Diego is bea-u-ti-ful."
"Is there a better city in the world than San Diego?"
"I'll just say it, San Diego is a football town."
There's also an outside chance at Anchorman (odds are high at +5000) "Stay Classy, San Diego"…or saying out loud "Saint Diego"
Just Gus Johnson Yelling
We know him, we love him, just Gus Johnson yelling…
"Going long for Emeeeezzzzziiiiiieeeeeeeeee….YEEEEEESSSSSSSSSSSS!!!"
"The Bruins have awoken from their slumber!"
"Oh my, Ingle just came up and said 'hello'!"
"Here we gooooooooooo!"
"65. Yards. To. The. House. Touchdown!"
Get ready folks…#GoPack
NC State's Week 1 Depth Chart Against UCONN (with Notes)
NC State will kick off their 2023 Football season next Thursday night against UCONN at 7:30pm. The Wolfpack released their Depth Chart for the game today.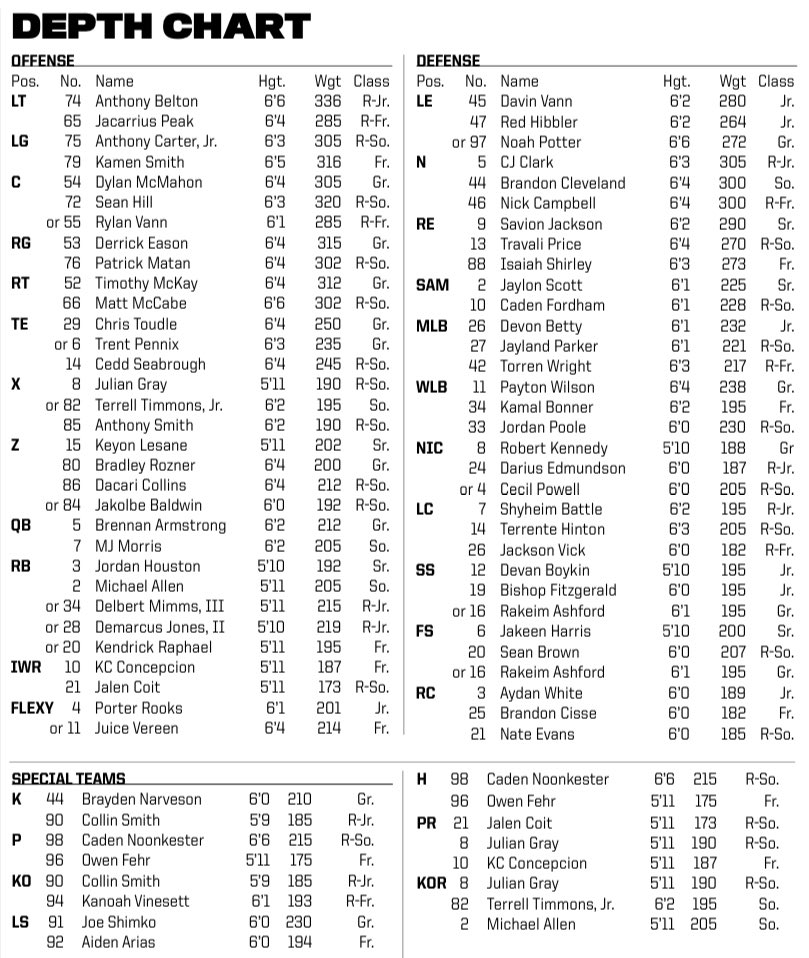 Notes
Redshirt Sophomore Anthony Carter Jr. is listed as the starting Left Guard. If Redshirt Sophomore Lyndon Cooper wasn't missing the first game due to injury, I wonder if Carter would be starting. Doeren did praise Carter in his press conference today. Also, he stated that Cooper should be back for the Notre Dame game.
Noticeably, Graduate Transfer Offensive Lineman Dawson Jaramillo is also missing from the Depth Chart. Unfortunately, Jaramillo has suffered an injury, and will miss the entirety of the 2023 season. This is a huge blow for Jaramillo, and a huge blow for the depth of the Wolfpack Offensive Line. Jaramillo was a Swiss Army knife, having the ability to play in numerous positions.
Very often, Doeren has stated that the "Or" in between two names means that the coaching staff sees both players as starters. There is an "Or" in between Chris Toudle and Trent Pennix at Tight End, with the former being listed first. Maybe it doesn't matter whose name is listed first, but I'm shocked Pennix's name wasn't the one at the top.
I'm not shocked that Julian Gray and Keyon Lesane are listed as the starters at the X and Y Wide Receiver positions. They both have had a lot of buzz surrounding them in Fall Camp, and Lesane was named a captain. Obviously, with Gray's speed, Offensive Coordinator Robert Anae is going to want to find a way to get the ball in his hands. With that being said, and this is no disrespect to the two of them, but both of them are 5'11", which isn't exactly the way you would sculpt your prototypical outside receivers. I expect Terrell Timmons and Bradley Rozner to both be heavily in rotation at the X and Y, to give the outside receivers a good dose of speed as well as height.
True Freshman Running Back Kendrick Raphael might be buried at the bottom of the Depth Chart at his position, but I bet he sees a carry before Mimms or Jones. Doeren mentioned that we would see Raphael against UCONN, but didn't mention Jones or Mimms. Anae likes to run 2 Running Back sets, with one of them almost functioning like a Full Back. As a result, I'm not shocked to see Jones and Mimms where they are in the Depth Chart.
Props to True Freshman Kevin Concepcion for earning the starting job at the Inside Wide Receiver position. Get ready to hear his name a lot this year. KC is backed up by Redshirt Sophomore Jalen Coit, who Doeren spoke highly of today.
Junior Porter Rooks is no longer sitting behind Thayer Thomas on the Depth Chart. Doeren said that Rooks has had a great camp. The former 4-Star prospect has an opportunity to show that those stars meant something by his name. With that being said, he will be pushed by True Freshman Javonte "Juice" Vereen, who even has national media buzzing about him heading into the season.
Three True Freshman are on the Offensive Depth Chart: Left Guard Kamen Smith, IWR Kevin Concepcion and FLEXY Juice Vereen.
True Freshman Kamal Bonner is 2nd on the Depth Chart at the Will Linebacker spot, backing up Payton Wilson. What's noteworthy, is that he's ahead of former 4-Star prospect Jordan Poole in the Depth Chart. Bonner must have made a heck of a first impression.
As expected, ODU Graduate Transfer Robert Kennedy is starting at Nickel.
True Freshman Brandon Cisse is backing up Aydan White at Right Corner, and Doeren said we should expect him to contribute.
Redshirt Sophomore Jalen Coit will be filling in the shoes of Thayer Thomas at Punt Returner.