NC State's Alexis Galarneau and Igor Saveljic Honored as All-ACC Performers
GREENSBORO, N.C. – Senior Igor Saveljic and junior Alexis Galarneau of the No. 20 NC State men's tennis team (18-10) earned recognition as All-ACC performers for the 2019 spring season, as announced by the league office on Thursday afternoon. Galarneau was named First Team All-ACC, and Saveljic was named to the Second Team All-ACC, as voted on by the conference's head coaches.

The honors marked the third season in a row that Galarneau has been honored as a member of an All-ACC team and is his second season in a row claiming a spot on the First Team. Saveljic was named to the Second Team in his final collegiate season, the first All-ACC honors of his career. NC State has had multiple all-conference honorees for seven seasons in a row.
Galarneau becomes the fourth player in program history to garner All-ACC status at least three times in his career. The Laval, Canada native once again put together a tremendous season playing at the top singles spot for the Wolfpack. Galarneau went 15-8 in dual match play during the 2019 season, with seven of his wins coming against ranked opponents. He beat the nation's No. 15 player on two occasions during his junior campaign, as his wins against Georgia's Emil Reinberg and Carl Söderlund marked the highest ranked victories of his career.

Galarneau also continued to be an impact player for the Pack in doubles. His 14-5 record in doubles action marked the best doubles winning percentage across all of NC State's usual doubles starters. Galarneau partnered with Michael Ogden for 11 of those 14 doubles wins, and the duo took down three ranked opponents on the season as a pair.

Saveljic's first All-ACC honors come after the senior posted a team-best 18 singles wins on the year, with 13 of those coming during dual match play. The Podgorica, Montenegro native went 18-11 during fall and spring play, with most of his playing time coming at the No. 2 singles slot for the Pack.

Pairing with his brother for doubles action, Saveljic went 18-9 on the year and 13-6 in dual matches. He and Ivan posted an 8-1 record during regular-season ACC matches. The duo has won nine of its last 10 contests, including eight wins in a row to close out the regular season.

Igor Saveljic currently owns 70 career singles wins and 63 career doubles wins, both marks that rank in the top 12 in program history.
Galarneau and Saveljic are two of 27 men's tennis players across the league who were honored as All-ACC performers for the 2018-19 season.

2019 ALL-ACC MEN'S TENNIS
Player of the Year: Carl Söderlund, Virginia
Freshman of the Year: Brandon Nakashima, Virginia
Coach of the Year: Andres Pedroso, Virginia

First Team All-ACC
Lucas Poullain, Florida State
Carlos Divar, Georgia Tech
Alexis Galarneau, NC State
William Blumberg, UNC-CH
Benjamin Sigouin, UNC-CH
Carl Söderlund, Virginia
Brandon Nakashima, Virginia
Petros Chrysochos, Wake Forest
Borna Gojo, Wake Forest

Second Team All-ACC
Nick Stachowiak, Duke
Adria Soriano Barrera, Miami
Alex Knaff, Florida State
Igor Saveljic, NC State
Brian Cernoch, UNC-CH
Axel Nefve, Notre Dame
Henrik Wiersholm, Virginia
Jason Kros, Virginia Tech
Bar Botzer, Wake Forest

Third Team All-ACC
Derek Austin, Boston College
Christopher Morin-Kougoucheff, Louisville
Simon Baudry, Clemson
Francisco Bastias, Miami
Josh Peck, UNC-CH
Blaine Boyden, UNC-CH
Richard Ciamarra, Notre Dame
Alex Lebedev, Notre Dame
Henrik Korsgaard, Virginia Tech
NC State's Week 1 Depth Chart Against UCONN (with Notes)
NC State will kick off their 2023 Football season next Thursday night against UCONN at 7:30pm. The Wolfpack released their Depth Chart for the game today.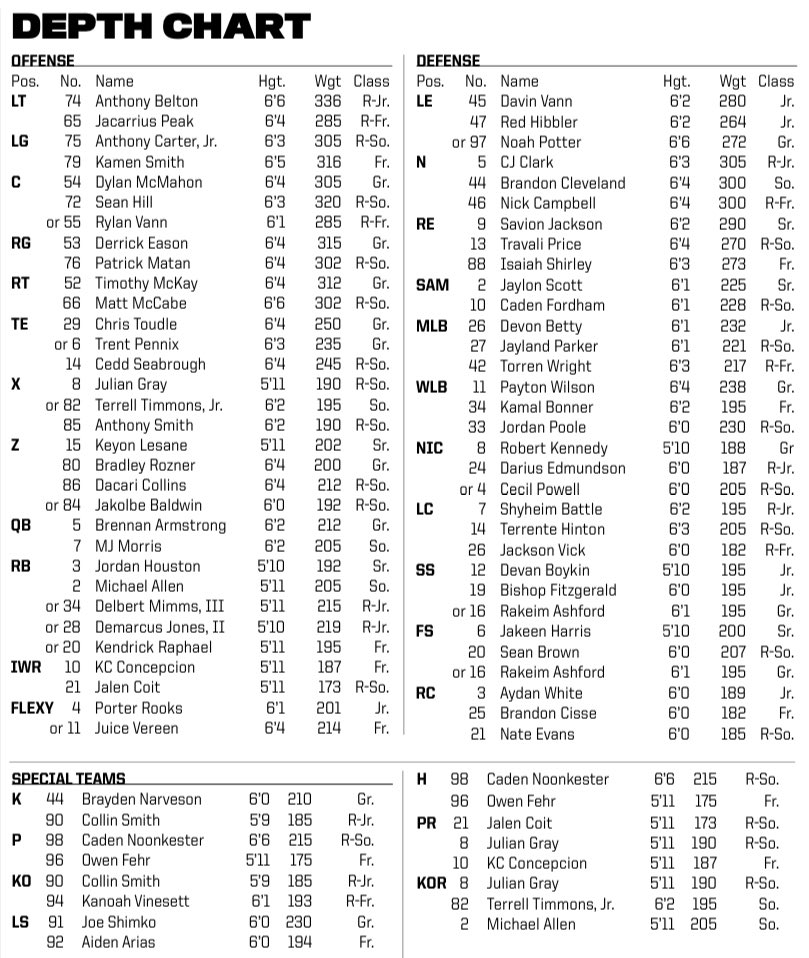 Notes
Redshirt Sophomore Anthony Carter Jr. is listed as the starting Left Guard. If Redshirt Sophomore Lyndon Cooper wasn't missing the first game due to injury, I wonder if Carter would be starting. Doeren did praise Carter in his press conference today. Also, he stated that Cooper should be back for the Notre Dame game.
Noticeably, Graduate Transfer Offensive Lineman Dawson Jaramillo is also missing from the Depth Chart. Unfortunately, Jaramillo has suffered an injury, and will miss the entirety of the 2023 season. This is a huge blow for Jaramillo, and a huge blow for the depth of the Wolfpack Offensive Line. Jaramillo was a Swiss Army knife, having the ability to play in numerous positions.
Very often, Doeren has stated that the "Or" in between two names means that the coaching staff sees both players as starters. There is an "Or" in between Chris Toudle and Trent Pennix at Tight End, with the former being listed first. Maybe it doesn't matter whose name is listed first, but I'm shocked Pennix's name wasn't the one at the top.
I'm not shocked that Julian Gray and Keyon Lesane are listed as the starters at the X and Y Wide Receiver positions. They both have had a lot of buzz surrounding them in Fall Camp, and Lesane was named a captain. Obviously, with Gray's speed, Offensive Coordinator Robert Anae is going to want to find a way to get the ball in his hands. With that being said, and this is no disrespect to the two of them, but both of them are 5'11", which isn't exactly the way you would sculpt your prototypical outside receivers. I expect Terrell Timmons and Bradley Rozner to both be heavily in rotation at the X and Y, to give the outside receivers a good dose of speed as well as height.
True Freshman Running Back Kendrick Raphael might be buried at the bottom of the Depth Chart at his position, but I bet he sees a carry before Mimms or Jones. Doeren mentioned that we would see Raphael against UCONN, but didn't mention Jones or Mimms. Anae likes to run 2 Running Back sets, with one of them almost functioning like a Full Back. As a result, I'm not shocked to see Jones and Mimms where they are in the Depth Chart.
Props to True Freshman Kevin Concepcion for earning the starting job at the Inside Wide Receiver position. Get ready to hear his name a lot this year. KC is backed up by Redshirt Sophomore Jalen Coit, who Doeren spoke highly of today.
Junior Porter Rooks is no longer sitting behind Thayer Thomas on the Depth Chart. Doeren said that Rooks has had a great camp. The former 4-Star prospect has an opportunity to show that those stars meant something by his name. With that being said, he will be pushed by True Freshman Javonte "Juice" Vereen, who even has national media buzzing about him heading into the season.
Three True Freshman are on the Offensive Depth Chart: Left Guard Kamen Smith, IWR Kevin Concepcion and FLEXY Juice Vereen.
True Freshman Kamal Bonner is 2nd on the Depth Chart at the Will Linebacker spot, backing up Payton Wilson. What's noteworthy, is that he's ahead of former 4-Star prospect Jordan Poole in the Depth Chart. Bonner must have made a heck of a first impression.
As expected, ODU Graduate Transfer Robert Kennedy is starting at Nickel.
True Freshman Brandon Cisse is backing up Aydan White at Right Corner, and Doeren said we should expect him to contribute.
Redshirt Sophomore Jalen Coit will be filling in the shoes of Thayer Thomas at Punt Returner.