Pack Falls to Orange 24-10
The Wolfpack fell to the Orange 24-10 on Saturday.
NC State was hoping to go into their matchup with #5 FSU with a ton of confidence. Instead, they'll be limping in after a allowing Syracuse to run rampant on them to the tune of 362 yards and 3 TDs.
Once again Pete Thomas labored through a performance, finishing with 151 yards and a touchdown. Before the game there was speculation that the Pack would run out Brandon Mitchell at QB.  Instead, they'll likely have to wait until Florida State to see their starting QB back in action. Thomas just wasn't on the mark all night, and with the Wolfpack defense having to spend a lot of time on the field, Syracuse took advantage. The Orange had two runners break the century mark and nearly 3. Jerome Smith, Terrel Hunt,  and Prince-Tyson Gulley went for a combined 364 yds and the Wolfpack had no answer for them.
This game didn't initially seem as lopsided as it ended up. Midway through the 4th quarter the game was knotted up at 10. That's when Syracuse broke it open. Smith reeled off a 57 yard run and on the next play Gulley took it 18 yards for the score. That was all the Orange needed as the Wolfpack offense never could get anything going. Cuse added another score and that left the Pack with a 24-10 loss.
State will have a week off to prepare for #5 Florida State in Tallahassee. They will enter that game 3-3 and 0-3 in the ACC.
NC State's Depth Chart vs. Louisville (with Notes)
NC State has released their Depth Chart for their matchup against Louisville this Friday night.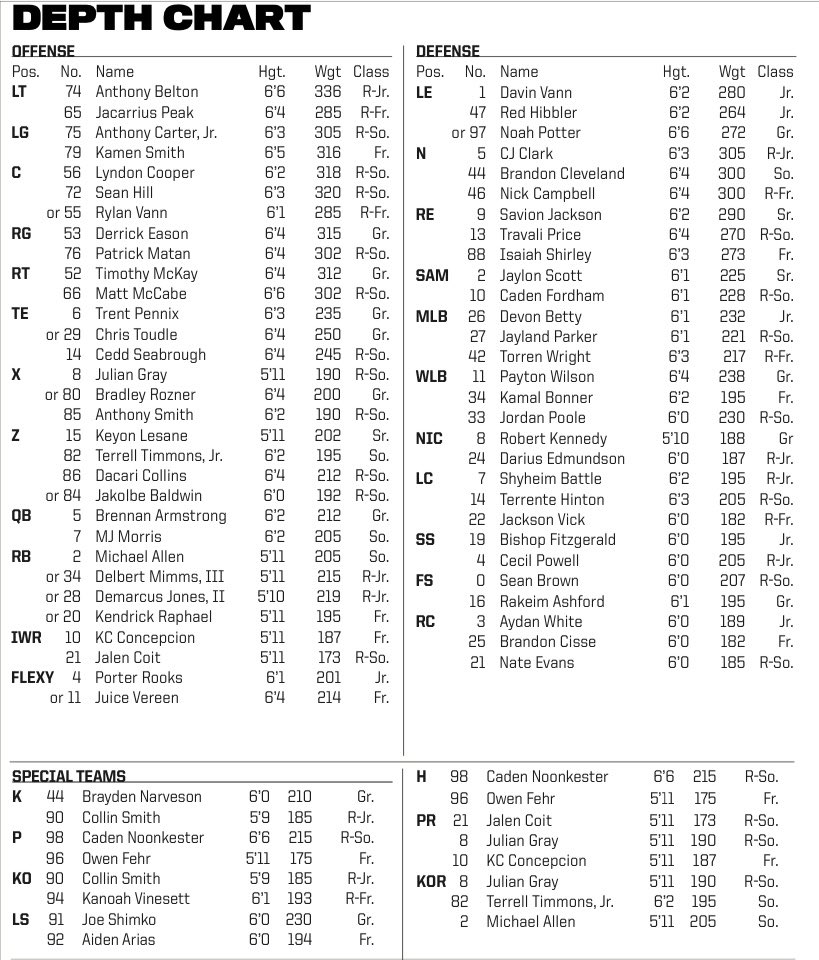 Notes
Starting Center Dylan McMahon isn't listed on the Depth Chart. Wolfpack head coach Dave Doeren said that McMahon is still "day-to-day."

As a result, Lyndon Cooper will be starting at Center once again.

Starting Strong Safety Devan Boykin had to leave the game almost immediately last Friday night up at UVA. He is not listed on the Depth Chart, but thankfully, it doesn't seem like something major. According to Doeren, it's not very likely that Boykin will be able to play Friday, but it hasn't been completely ruled out.

As a result, Bishop Fitzgerald will be starting at Strong Safety.

The Depth Chart for the Running Backs is a hoot. While Michael Allen is listed at the top, there is an "or" in between everyone's name, treating everyone as if they are starters.
Last week, Cecil Powell was listed as the third string Nickel, but Doeren said after the UVA game that he had been serving as Boykin's backup at Strong Safety that week in practice. Both went out of the game due to injuries.

This weeks depth chart reflects the fact that he'd been getting run at Strong Safety last week. He's listed as Bishop Fitzgerald's backup at SS.

Last week Rakeim Ashford was listed as the backup at Strong Safety, and now he is listed as the backup at Free Safety.