PI Predictions: Offensive Sleepers, Breakouts and Underperformer Predictions from our Writers
With the season just a couple of weeks away, it's time to put it all on the line and start making predictions. Our writers will take a shot at predicting the Offensive Sleepers, Breakouts, and Busts for NC State's coming season. Here are the definitions:
Sleeper: A player who is being overlooked and will outperform their consensus expectation
Breakout: A player who will emerge and have a year far better than their prior season's output
Underperformer: A player who will not meet their consensus expectation
Top Sleeper
Joey Wolferetti: Delbert Mimms, RB
When you look at this Wolfpack team, the one spot that I think we all can agree is a big question mark is running back. With Person and Knight gone, State is going to rely on Jordan Houston and while I think he's going to do fine, I don't think he's a workhorse type. I think NC State is going to need to pair him up with a bruiser, and while the popular pick is going to be Demie Sumo-Karngbaye, I'm going to take a gamble and bet on Mimms eventually playing a big role for this team. He's big, strong, and really churns those legs. It might take a few weeks but Mimms is my sleeper.
Matthew Bradham: Demi Sumo-Karngbaye, RB
After the exodus of Ricky Person and Zonovan Knight, the running back position is one of the question marks of the Wolfpack offense headed into 2022. It is assumed that Junior Jordan Houston will be the next man up, and I fully expect him to be the first running back to trot out on the field on September 3rd in Greenville against ECU. With that being said, I also expect NC State to continue to have a Running Back-by-Committee, as they have the past three seasons. I've loved Houston since he debuted averaging 5.2 yards per carry in 2019. With that being said, I don't foresee him being a back that runs the ball 20+ times per game. The Running Back room is talented behind Houston, with Delbert Mimms, Michael Allen and Micah Crowell, but I'm putting my money on Demi Sumo being the sleeper to make an impact most don't expect in 2022. The buzz around Sumo since Spring camp has been substantial. If you watch his high school tape, he has impeccable vision, makes people miss, and also lined up at receiver and ran crisp routes and had sticky hands. Don't sleep on Sumo.
Breakout Player
Joey Wolferetti: Anthony Smith, WR
NC State is going to rely on Devin Leary quite a bit this season, and if he's going to be stud we all think he is, then he's going to need some elite targets on the receiving end. Thayer Thomas is going to lead this team in receptions, but I'm going to predict Anthony Smith breaks out in a big way. The sophomore is 6'2, fast, and has great hands. He was targeted 7 times in the Spring Game, tied for the most with Thomas, and he caught 3 of those for 67 yards and a TD. Two of those catches were really difficult to haul in. I think Smith emerges as one of Leary's top targets, especially downfield.
Matthew Bradham: Julian Gray, WR
In High School Gray ran a 4.49 laser-timed 40. He ran a 10.7 100-yard sprint. The former 4-star prospect can fly. I could be wrong, but I can't think of a wideout that has had more buzz in Fall Camp than Gray, whether it's been Doeren talking about him, Tim Beck talking about him, and his Quarterback talking about him. This week Leary said that Gray was an "outstanding talent…a special player." He can play in the slot and he can play out wide. In the ACC Network's All-Acess, we got a glimpse of the damage he was doing on the NC State secondary (which is good) in the recent scrimmage.
The Julian Gray bandwagon is now full pic.twitter.com/jq8dc8UZF8

— Wolfpack Stats (@ncstatestats) August 22, 2022
In a crowded Wide Receiver room, I'm calling Gray to be the breakout Wolfpack player on offense.
Underperformer
Joey Wolferetti: Devin Carter, WR
First, let me state that I think Devin Carter is going to have a fine year, and this is going to be a real unpopular pick with most of you, but I just think Carter fails to meet expectations. Now, expectations are pretty high for Carter, which is why I think at the end of the year, you'll look at his stats and see the season as a success for him, however because of my predicted emergence of Smith, the connections Leary has with Thayer, and Pennix likely grabbing a bunch of targets, I think Carter fades back a little bit. His inconsistency last year bit State, and I hope those drops are behind him, but I think with all the competition at WR, I'll have to go with Carter as my underperformer.
Matthew Bradham: Chris Toudle, TE
I hate my own selection. I freaking love Chris Toudle, and I think he will have a solid season in 2022. With that being said, my gut says Trent Pennix is going to outshine Toudle. Pennix, played his first three seasons at Running Back, but switched to Tight End last season, and poured it on at the end of the year, making 12 of his 16 catches in the final 5 games. Please hear me say that I'm not saying Pennix is Jaylen Samuels, but I think he has the ability to be used more creatively in the NC State offense than Toudle. Maybe that's why the ACC Digital Network ranked him as the #2 Tight End returning in the ACC heading into the year.
I was supposed to write about how Toudle was going to underperform, and I ended up writing about Trent Pennix. Oh well.
NC State's Depth Chart vs. Louisville (with Notes)
NC State has released their Depth Chart for their matchup against Louisville this Friday night.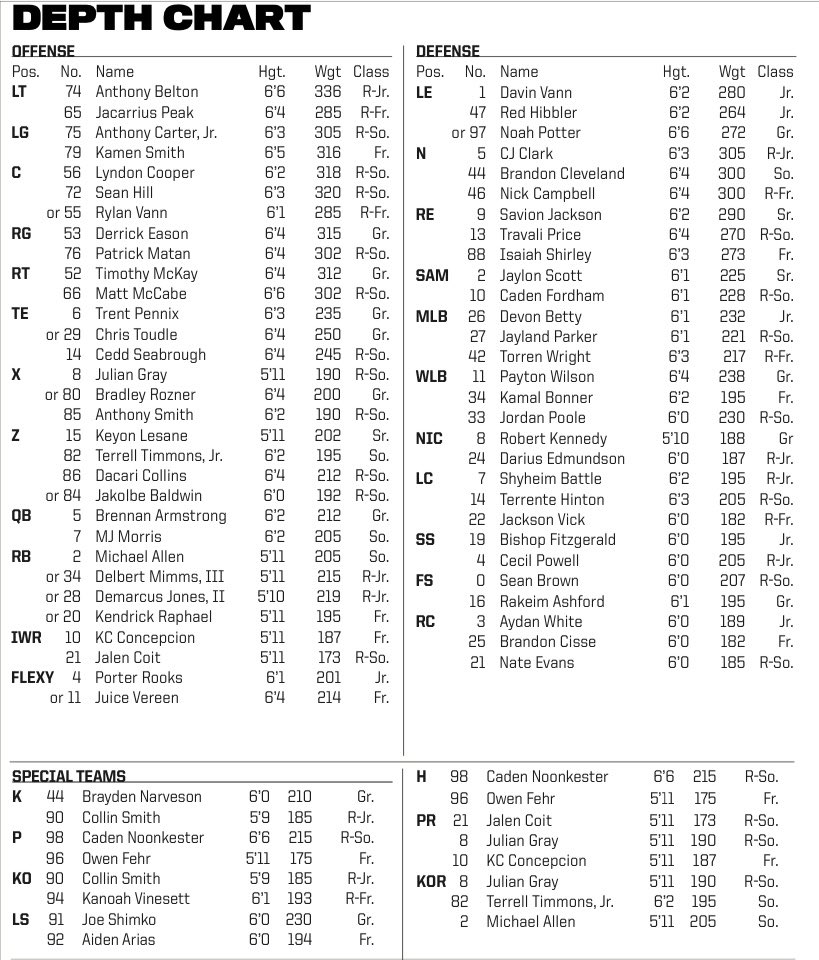 Notes
Starting Center Dylan McMahon isn't listed on the Depth Chart. Wolfpack head coach Dave Doeren said that McMahon is still "day-to-day."

As a result, Lyndon Cooper will be starting at Center once again.

Starting Strong Safety Devan Boykin had to leave the game almost immediately last Friday night up at UVA. He is not listed on the Depth Chart, but thankfully, it doesn't seem like something major. According to Doeren, it's not very likely that Boykin will be able to play Friday, but it hasn't been completely ruled out.

As a result, Bishop Fitzgerald will be starting at Strong Safety.

The Depth Chart for the Running Backs is a hoot. While Michael Allen is listed at the top, there is an "or" in between everyone's name, treating everyone as if they are starters.
Last week, Cecil Powell was listed as the third string Nickel, but Doeren said after the UVA game that he had been serving as Boykin's backup at Strong Safety that week in practice. Both went out of the game due to injuries.

This weeks depth chart reflects the fact that he'd been getting run at Strong Safety last week. He's listed as Bishop Fitzgerald's backup at SS.

Last week Rakeim Ashford was listed as the backup at Strong Safety, and now he is listed as the backup at Free Safety.