NC State vs. Presbyterian Cheat Sheet
NC State Wolfpack  vs. Presbyterian Blue Hose
Carter-Finley Stadium, Raleigh NC
Sept. 20  |  6pm  |  ESPN3
What the heck is a "Blue Hose?"
The nickname "Blue Hose" began in the early 1900's, when sportswriters referred to the Presbyterian College athletic teams as the "Blue Stockings" because of the blue socks they wore. Writers used the terms "stockings" and "hose" interchangeably over the years. (via gobluehose.com)
Where They Stand: NC State
After the first 2 games, despite winning both, State fans were still wondering if Doeren was right for this job. Oh what a different a week makes. Last Saturday, after drubbing USF 49-17 and showing nearly no flaws, the Pack fans are back Doeren's corner and expecting another blowout tonight in Raleigh.
Where They Stand: Presbyterian
The Blue Hose are riding a 2 game winning streak coming into Raleigh. They are fresh off a 10-7 win over Furman and will be amped up as this is one of two high profile games on their schedule this year.
What to watch for: 
Jacoby Brissett: As advertised Brissett has come in and quickly instilled confidence in this young team. He's got a quick release, a strong arm and is hitting on over 70% of his passes. He's quickly piled up over 800 yards and 7 tds on the young season.
NC State's Ground Game: It's been quite a while since NC State could really say that they had a legitimate ground attack, but this year it seems as if they do. A question mark coming in, Thronton and Dayes have taken a step forward thus far and have really been huge pieces to this puzzle. With Brissett coming in, State fans knew that the pass game would likely be much improved, but being able to extend drives and work the clock is very important and was something they struggled to do in recent years. Thornton has led the way in both production and volume thus far. He has 36 carries for 229 yds and 4 TDs, but Matt Dayes is not far behind. The sophomore has 181 yds and 2 TDs on the ground, but is a real weapon in the passing game as well (he is the second leading receiver, totaling 141 yds and 2 TDs). Both Thornton and Dayes are averaging over 6 yards per carry. They should have huge days against Presbyterian, but the real test will be next week against FSU.
The Wolfpack Defense: This is definitely something to watch because it's something that  hasn't been very consistent. Over the first 2 games, this group looked slow, soft and unorganized, however last week it was a totally different story. Against a UCF team that was coming in with a very good offense, the Wolfpack D stepped up and shut them down. State only allowed 159 yds to UCF and took it away 3 times. It will be interesting to see which group shows up today.
The emergence of Bo Hines: It's been a while since we saw a freshman receiver come in and really just take over the #1 spot for State, but it's happening now. Hines is leading the team with 16 receptions for 209 yds, however he has yet to find the endzone.
NC State's Depth Chart vs. Louisville (with Notes)
NC State has released their Depth Chart for their matchup against Louisville this Friday night.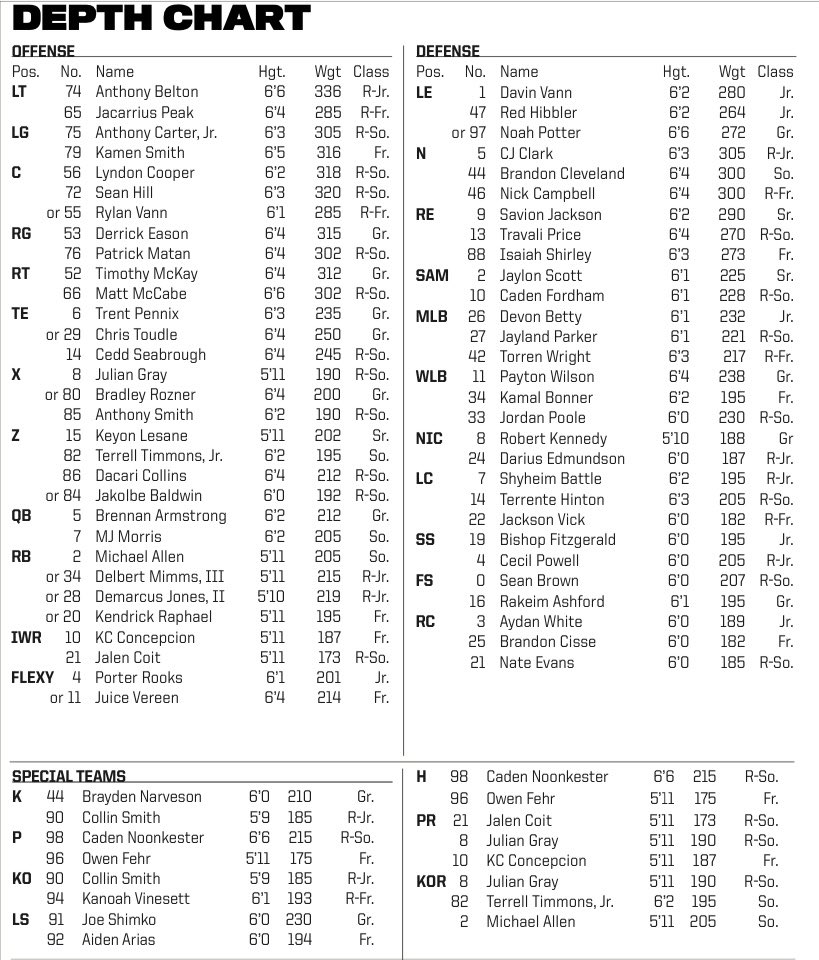 Notes
Starting Center Dylan McMahon isn't listed on the Depth Chart. Wolfpack head coach Dave Doeren said that McMahon is still "day-to-day."

As a result, Lyndon Cooper will be starting at Center once again.

Starting Strong Safety Devan Boykin had to leave the game almost immediately last Friday night up at UVA. He is not listed on the Depth Chart, but thankfully, it doesn't seem like something major. According to Doeren, it's not very likely that Boykin will be able to play Friday, but it hasn't been completely ruled out.

As a result, Bishop Fitzgerald will be starting at Strong Safety.

The Depth Chart for the Running Backs is a hoot. While Michael Allen is listed at the top, there is an "or" in between everyone's name, treating everyone as if they are starters.
Last week, Cecil Powell was listed as the third string Nickel, but Doeren said after the UVA game that he had been serving as Boykin's backup at Strong Safety that week in practice. Both went out of the game due to injuries.

This weeks depth chart reflects the fact that he'd been getting run at Strong Safety last week. He's listed as Bishop Fitzgerald's backup at SS.

Last week Rakeim Ashford was listed as the backup at Strong Safety, and now he is listed as the backup at Free Safety.