Making the Case for Torry Holt's Hall of Fame Induction…AGAIN
This is Holt's 6th consecutive year as a nominee for the NFL Hall of Fame, being nominated in his first year of eligibility in 2015 (has to be 5 years after retirement). Holt has been a semifinalist every time, including this year, with the 25 players being revealed earlier this week.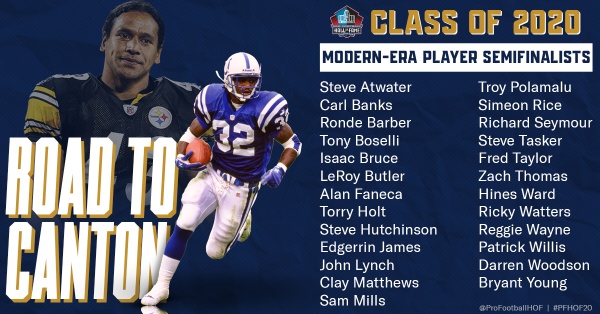 Holt played 11 seasons, and was a Pro Bowler in 7 of them (2000, 2001, 2003, 2004, 2005, 2006 & 2007). He also earned 1st Team All-Pro honors in 2003, and 2nd Team All-Pro honors in 2006.
He led the NFL in receiving yards twice (2000 & 2003) and receptions once (2003)
In 11 seasons, Holt ranked in the Top-10 in receiving yards 8 times (2000, 2001, 2002, 2003, 2004, 2005, 2006 & 2007), receptions 5 times (2002, 2003, 2004, 2005 & 2006), and touchdown receptions 4 times (2003, 2004, 2005 & 2006).
He was also a part of "The Greatest Show on Turf" with Kurt Warner throwing the ball to him and Isaac Bruce. They went to 2 Super Bowls, and took home the trophy in 2001.
The only reason Holt hasn't made it into the Hall of Fame already is because his body didn't hold on for a couple more seasons. What he did in a shortened career is remarkable, and shouldn't be denied simply because his career numbers aren't as high as others.
He was the youngest player to accumulate 10,000 receiving yards, as well as 11,000. Holt's the only player in NFL history to have over 1,300 receiving yards in 6 straight seasons.
He averaged 77.4 receiving yards per game for his career, which ranks 7th all-time in NFL history.
You could make an argument that for a decade, there was no better receiver in the NFL than Torry Holt. If you are in the conversation for being the best at your position throughout the length of your career, you should be in the Hall of Fame.
NC State's Jarkel Joiner was at the Hornet's 1st Draft Workout
The Charlotte Hornets held their first 2023 NBA Draft Workout yesterday, and NC State's Jarkel Joiner was 1 of the 6 players in attendance.
This was amazing thank y'all for having me ❤️💪🏿 https://t.co/VYohCZsoA7

— Jarkel Joiner (@JarkelJoiner) May 2, 2023
Joiner earned 2nd Team All-ACC honors in his single season at NC State, averaging 17.0 points per game. He is expecting to attend a couple of more workouts. Joiner is projected as a late 2nd round pick, or as an undrafted free agent signee.