CBS analyst David Cobb calls NC State the "Most overrated team" in the ACC
Oh, what people will do to get some shock-value clicks these days.
NC State finished last season ranked 20th in the nation. They finished 2nd in the ACC Atlantic. They have almost the same team returning this season.
Yet somehow, David Cobb from CBS thinks they are the 'most overrated' team in the conference. Here is what he had to say after making his selection…
"The assumption that NC State will break through for 10 wins this season discounts the impact of what it lost in the backfield. Zonovan Knight and Ricky Person Jr. comprised an elite duo, combining for nearly 1,400 yards rushing and 49 receptions last season. Without them, the Wolfpack risk becoming entirely one-dimensional as they also have bid farewell to the NFL Draft's No. 6 overall pick, Ikem Ekwonu, on the offensive line. NC State is a clear bowl team, but it gives off 2021 Iowa State and North Carolina vibes. The dreams of a league title and dark horse CFP contention are overblown. — David Cobb"
Cobb makes a fair statement about Kinght and Person being gone, but it's almost as if he thinks the Pack will have to take the field with no running back. Jordan Houston has been good in a small sample size. He averaged 5.2 yards per carry as a freshman and in his 3rd year he averaged 4.2 ypc. Ricky Person averaged 4.7 ypc last year and Knight averaged 5.5.
No one thinks NC State's run game is going to get better this season, but there is also the notion that this is the year that they let the reigns off of Leary. With Person and Knight, you didn't have to let Leary grip it and rip it. You could sit back and churn out yardage with your running backs. But just look at what happened whenever NC State got down late in games and Leary had to take control. This was when he was at his best. So you have a QB with another year under his belt, you have a very good offensive line and a great defense that gets to add an NFL caliber LB in Payton Wilson.
Meanwhile, Cobb picks NC State 2nd, along with every other analyst that they got for this piece.
I don't really get it. NC State is picked by almost everyone to finish behind Clemson, and Cobb agrees. Yet, he thinks they are the most overrated? Clemson is ranked 4th in the AP poll and State is ranked 13th.
Chalk this up to another analyst playing the "all publicity is good publicity" angle and hating on a team with the most rabid fanbase in the conference.
NC State's 2023 Football Schedule has Arrived!
NC State's 2023 Football schedule was released yesterday.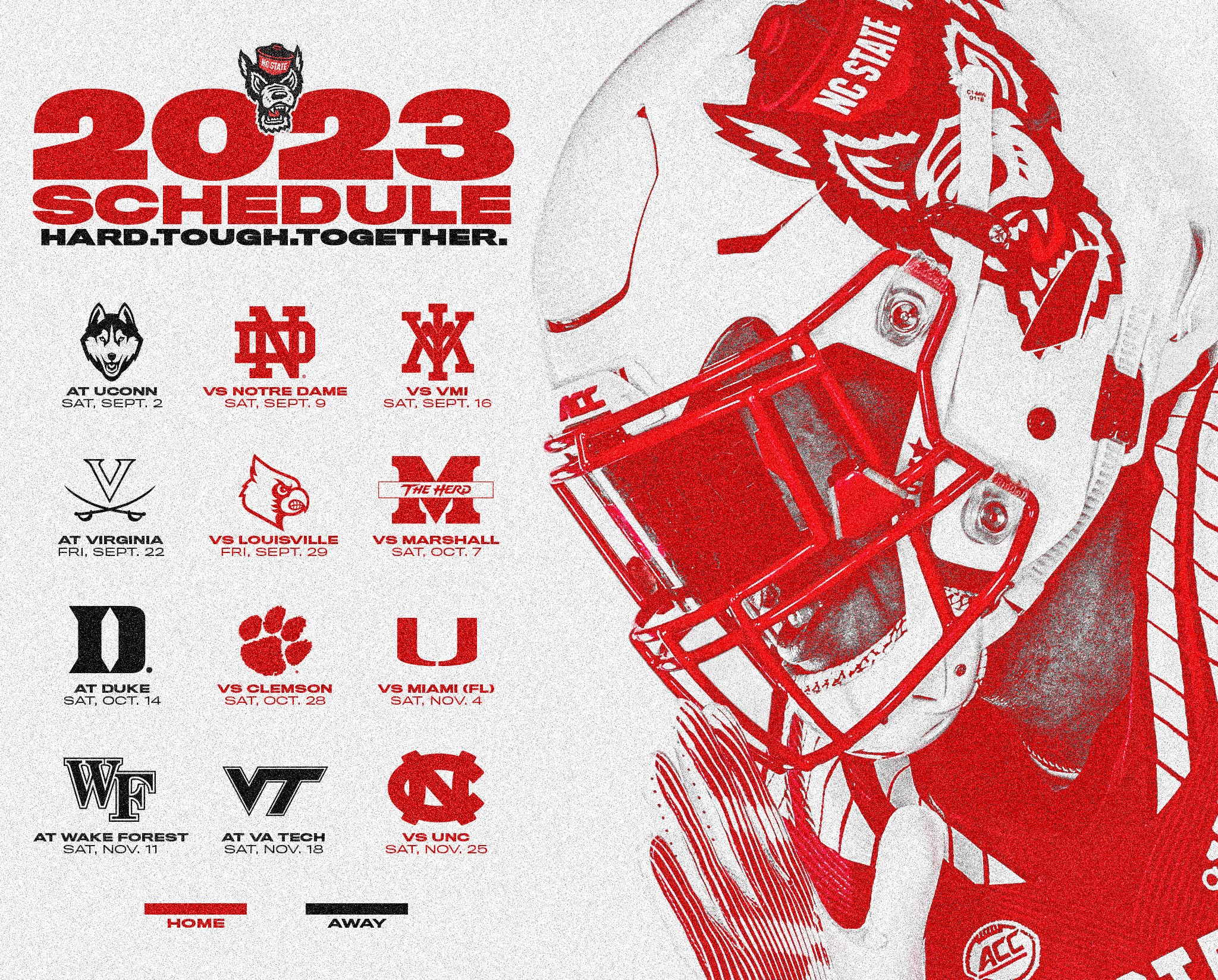 Notes
NC State will play all three in-state ACC rivals: UNC, Duke and Wake Forest
NC State has two Friday night games back to back: UVA & Louisville
NC State will play Quarterback Brennan Armstrong's former team UVA on 9/22.
NC State will host Notre Dame for the 2nd time ever, and will face a familiar face in former Wake Forest Quarterback Sam Hartman.
In the first year without Divisions in the ACC, 5 of NC State's 8 conference opponents will be teams that were in the Coastal Division last year: UVA, UNC, Miami, Duke, VT.

The three former Atlantic Division opponents are: Clemson, Wake Forest and Louisville