NC State Falls Flat Against Clemson 68-57
State didn't come out flat as many reports are stating. In fact, they came out with a lot of energy and looked like they might put the Tigers on the ropes pretty quickly. That, however, became less and less likely as State started to get ice cold from the field. As their confidence wavered, so did their defense. Clemson hit a few uncontested shots and all of the sudden State collapsed and the Tigers went on a roll. By halftime State found themselves in a 36-16 hole.
With Lacey and Turner ice cold, State turned to Abu who had another nice all-around game, but still only hit 6-14 shots. When it became clear that State wasn't going to get their shots to fall, Gottfried amped up the defense and went with full court pressure. This sped up the Tigers, forced poor shots, created turnovers and got the Pack out in transition. They scratched and clawed to get it going, but the hole was too deep and the shots just weren't going down when they needed them. Lacey dropped in a few big shots down the stretch and State got within 5, but that would be it. Untimely mistakes and poor decisions by the Pack down the stretch allowed Clemson to cling to life and ultimately escape with the victory.
Here is our take.

Ok first off…Stop the 'Fire Gottfried' stuff
Believe me, if these types of losses are happening two years from now, then fine, you can start the 'fire Gott' calls, but some of you people on twitter are acting like children who's toys got taken away. Gottfried is not without flaws, but the people that are being vocal about him being fired right now are, I'd guess, not familiar with the inner workings of a team at this level.
You do understand that Gottfried has been at NC State for less than 4 years ,right? You understand that his first couple years were playing with Sid Lowe's leftovers and that you are behind the curve when you start recruiting. Your first few classes are patchwork classes. You are late to the game and need to fill slots. You pick up flawed players and hope they pan out. Some did, some didn't, but he always kept his group together and motivated enough to make it to the tournament ( a place that just 10 years ago some of the same fans calling for Gott's head would have given their first born to be invited to.) The first class Gottfried really should be getting judged on is this years freshman class. This is the group that he was able to really focus on and create relationships with as underclassmen. He wasn't going after late bloomers, he wasn't taking anyone's leftovers and he wasn't 'just settling.' This is the first class of guys that were zero'd in on by his staff early on and they worked hard to get. This was really where he was on level playing field with all of the other long standing ACC coaches. And what did he get? Just 3 guys that are hard working, no excuse, future on the court leaders.
Do you not see this? The Martin twins don't have to be yelled at to play defense. They don't have to be taught how to give effort or fight for loose balls. They don't need to be schooled on the fundamentals. These guys can't stand to lose, they come out every night and do whatever it takes to leave with that W. Abu is the same way. The kid might still be raw but that effort has him putting up double doubles and becoming State's go-to post presence. He's vocal, he's passionate, he isn't out there trying to look cool, he's out there trying to win basketball games. These two guys have a different level of their game. They are elite athletes with the basketball IQ, a deep ingrained passion for the game and a burning desire to win. These are the type of players that win championships and these are the type of players that Mark Gottfried seems to be keying on at this point.
Give the guy a break. This teams true talent is still very young and he has been getting pretty good results with a roster filled with flaws.
Abu Coming Alive
Speaking of the talented freshman, how good is this guy? He was finally able to stay out of foul trouble and all he did was go for 15pts and 12 boards. His energy and physicality on the blocks gives the Pack a whole new dimension. Since Abu has turned the corner he's been in foul trouble twice and has had the guards go ice cold. State has yet to put these two pieces together on a single night. They will and when they do, watch out. You are watching a true star emerge for the Pack. He is going to be what you hoped CJ Leslie would be. Enjoy the show.
Time for Turner to Redefine Role
Ralston Turner has been great for NC State and has at times been a savior for this team, but as players like Abu and the Martins are beginning to emerge, Ralston's role needs to be redefined. No longer does Gottfried need to rely on Turner going corner to corner trying to get a sliver of light to shoot a well contested 3. Turner needs to become more of a spot up shooting role player for this team. He needs to focus on his strengths and make sure every shot he takes is a good one. There is too much talent on the floor for him to feel like he needs to take long, contested 3s for NC State to have a chance. Don't get me wrong, I'm not trying to be a 'what have you done for me lately.' type person. I'm really not. He's going to have more big games and he's a huge piece to this puzzle, but he is not versatile enough to take the volume of shots he is currently taking. It's time for Gottfried to help him redefine himself to fit with the pieces that State currently has.
Martins Need Minutes
They might not be physically strong enough to become leading role scorers right now, but there is no doubt that these guys are the future of this program. The level of effort, the defense, the length, the versatility of these two has given the Pack yet another dimension. I'll say it again. One or both of these guys need to be on the court at all times. I think you're already seeing this with Gott's rotation, but I just wanted to reiterate. State needs high energy guys like this to emerge and become leaders of this team. When your leaders are your hardest workers then you get a trickle down effect that can take your team a long way. The run State made in the second half was made possible by the Martins pressure and length. They still need to learn to score at this level but right now their defense, ability to rebound from the wing and overall motor should keep them on the court.
Lost Cat?
State isn't going to go far without a true PG and we're starting to see that. Gott went all in with Barber and right now he's not liking what he's seeing. He's decreased Cat's minutes significantly and has taken him out of the starting line up. He's decided to go with Cody Martin, and while Cody has looked great, State has not. Lacey has been forced to take over PG duties, which takes him away from his natural scoring spots and asks him to work to bring the ball up the court and get the team into the offense. It's not ideal,  and has hurt the Pack offensively, but where else do you turn?
Barber just seems lost right now and we're coming down the home stretch of his sophomore season. He's still not crafty enough to finish around the rim, he's not strong enough or physical enough to get by defenders and he's still searching for his jumper.  There is no plan right now with Cat and that simply needs to change. He needs to study great PGs and turn away from the early Allen Iverson comparisons he was fed. I'm really at a loss on what else to say here other than State desperately needs Cat to turn into a great PG if they want to win and Cat desperately needs to turn into a great PG if he wants to earn his minutes back.
Next game is a must win. This Saturday the Pack takes on GT in Atlanta at noon.
NC State's Week 1 Depth Chart Against UCONN (with Notes)
NC State will kick off their 2023 Football season next Thursday night against UCONN at 7:30pm. The Wolfpack released their Depth Chart for the game today.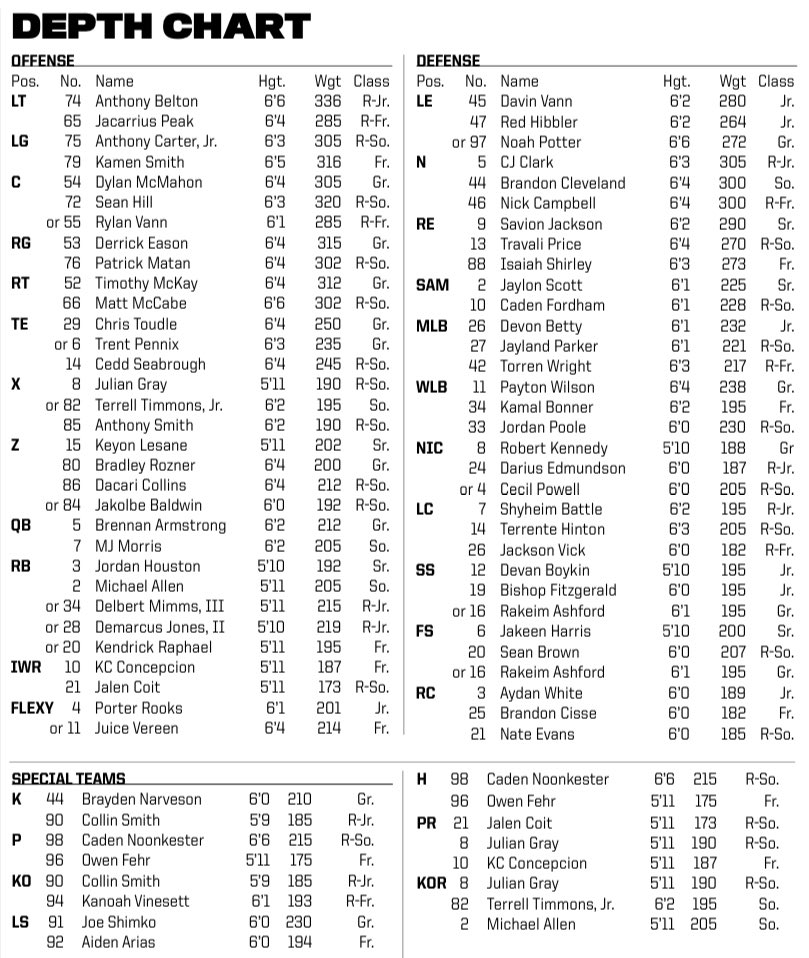 Notes
Redshirt Sophomore Anthony Carter Jr. is listed as the starting Left Guard. If Redshirt Sophomore Lyndon Cooper wasn't missing the first game due to injury, I wonder if Carter would be starting. Doeren did praise Carter in his press conference today. Also, he stated that Cooper should be back for the Notre Dame game.
Noticeably, Graduate Transfer Offensive Lineman Dawson Jaramillo is also missing from the Depth Chart. Unfortunately, Jaramillo has suffered an injury, and will miss the entirety of the 2023 season. This is a huge blow for Jaramillo, and a huge blow for the depth of the Wolfpack Offensive Line. Jaramillo was a Swiss Army knife, having the ability to play in numerous positions.
Very often, Doeren has stated that the "Or" in between two names means that the coaching staff sees both players as starters. There is an "Or" in between Chris Toudle and Trent Pennix at Tight End, with the former being listed first. Maybe it doesn't matter whose name is listed first, but I'm shocked Pennix's name wasn't the one at the top.
I'm not shocked that Julian Gray and Keyon Lesane are listed as the starters at the X and Y Wide Receiver positions. They both have had a lot of buzz surrounding them in Fall Camp, and Lesane was named a captain. Obviously, with Gray's speed, Offensive Coordinator Robert Anae is going to want to find a way to get the ball in his hands. With that being said, and this is no disrespect to the two of them, but both of them are 5'11", which isn't exactly the way you would sculpt your prototypical outside receivers. I expect Terrell Timmons and Bradley Rozner to both be heavily in rotation at the X and Y, to give the outside receivers a good dose of speed as well as height.
True Freshman Running Back Kendrick Raphael might be buried at the bottom of the Depth Chart at his position, but I bet he sees a carry before Mimms or Jones. Doeren mentioned that we would see Raphael against UCONN, but didn't mention Jones or Mimms. Anae likes to run 2 Running Back sets, with one of them almost functioning like a Full Back. As a result, I'm not shocked to see Jones and Mimms where they are in the Depth Chart.
Props to True Freshman Kevin Concepcion for earning the starting job at the Inside Wide Receiver position. Get ready to hear his name a lot this year. KC is backed up by Redshirt Sophomore Jalen Coit, who Doeren spoke highly of today.
Junior Porter Rooks is no longer sitting behind Thayer Thomas on the Depth Chart. Doeren said that Rooks has had a great camp. The former 4-Star prospect has an opportunity to show that those stars meant something by his name. With that being said, he will be pushed by True Freshman Javonte "Juice" Vereen, who even has national media buzzing about him heading into the season.
Three True Freshman are on the Offensive Depth Chart: Left Guard Kamen Smith, IWR Kevin Concepcion and FLEXY Juice Vereen.
True Freshman Kamal Bonner is 2nd on the Depth Chart at the Will Linebacker spot, backing up Payton Wilson. What's noteworthy, is that he's ahead of former 4-Star prospect Jordan Poole in the Depth Chart. Bonner must have made a heck of a first impression.
As expected, ODU Graduate Transfer Robert Kennedy is starting at Nickel.
True Freshman Brandon Cisse is backing up Aydan White at Right Corner, and Doeren said we should expect him to contribute.
Redshirt Sophomore Jalen Coit will be filling in the shoes of Thayer Thomas at Punt Returner.