NC State in the NFL 2018 Week 1 Recap
Week 1 of the 2018 NFL season is in the bag, and 11 former NC State players were active. Here's a breakdown of their performances.
QB Philip Rivers (Starter) was 34 of 51 for 424 yards and 3 touchdowns (1 interception) in the Chargers 28-38 loss to the Chiefs. His QB Rating was 103.7 in Week 1.
Everything about this Philip Rivers to @Keenan13Allen TD was 🔥🔥🔥

📺: CBS #FightForEachother #Kickoff2018 pic.twitter.com/kUSgYEZvTD

— NFL (@NFL) September 9, 2018
Had San Diego's receivers actually been able to resist the urge to drop his passes, Rivers would have thrown for over 600+ yards and 6 touchdowns. Over 5 of the dropped passes would have gone for 30+ yards, and 3 of them would have been touchdowns.
If Philip Rivers retires tomorrow I wouldn't blame him pic.twitter.com/2p9DomurvV

— Tom Martin (@TomKCTV5) September 10, 2018
RB Nyheim Hines had the most surprising performance of any Pack Pro in Week 1. Hines was 3rd on the depth chart heading into the game, and he ended up playing 37 snaps, and was targeted in 14 of them. He had 5 carries for 19 yards and 7 receptions (9 targets) for 33 yards in the Colts 23-24 loss to the Bengals. Maybe changing his number from #42 to #21 heading into the opener boosted his confidence.
QB Russell Wilson (Starter) was 19 of 33 for 298 yards and 3 touchdowns (2 interceptions) in the Seahawks 24-27 loss to the Broncos. His QB Rating was 92.7 in Week 1.
Rookie LB Bradley Chubb (Starter) had 3 tackles and 0.5 sacks in the Broncos 27-24 victory over the Seahawks. Chubb's half-sack was against former Wolfpack quarterback Russell Wilson. He played 54 of the 57 defensive snaps, which was more than any other member of the Broncos front seven.
Bradley Chubb @astronaut in his astronaut jacket. pic.twitter.com/B3yUiVUt7w

— Vic Lombardi (@VicLombardi) September 10, 2018
Rookie DE BJ Hill (Starter) had 4 tackles, including this tackle for loss, in the Giants 15-20 loss to the Jaguars.
the B in BJ Hill stands for BULLY I don't know what the J stands for #NYG pic.twitter.com/3aEDbSSHrs

— RegularSZN Ethan (@EthanGSN) September 9, 2018
Rookie DT Justin Jones had an impressive debut for the Chargers, picking up 3 tackles off the bench.
This is the second play, which also features Justin Jones. Chiefs in 12 personnel, run a stretch play to the right. Jones drives RG back, walks him down LOS. Rochell extends the edge. Kyzir flies downhill, lays the wood again. Melvin closes from backside. pic.twitter.com/SrSKhU0OwR

— The Lightning Round Podcast (@Lightning_Round) September 10, 2018
This comes after not playing a single snap in the preseason due to injury.
LG Joe Thuney (Starter) has started every single game for the Patriots since he was drafted by them, and he did so once again on Sunday when New England defeated Houston 27-20.
RG JR Sweezy (Starter) was 2nd on the depth chart, but DJ Fluker was hurt last week, and the former NC State defensive tackle started for the Seahawks in their 24-27 loss to the Broncos.
PK Stephen Hauschka connected on a 35-yard field goal, but missed a 52-yarder in the Bills 3-47 loss to the Ravens.
C Ted Larsen played as a reserve in the Dolphins 27-20 victory over the Titans.
CB Juston Burris played as a reserve in the Jets 48-17 victory over the Lions, but didn't record any stats.
CB Dontae Johnson was supposed to start for the Seahawks on Sunday, but he was put on the Injured Reserve list after injuring his groin in practice last week.
Pack Pro's who were Inactive in Week 1
Seahawks CB Dontae Johnson (injury)
Packers S Josh Jones (injury)
49ers DE Kentavius Street (injury)
Chargers DT TY McGill
Steelers RB Jaylen Samuels
Colts QB Jacoby Brissett
Cardinals QB Mike Glennon
Jaguars RT Will Richardson
Philip Rivers Tied for 2nd Best Odds to Win 2019 NFL MVP
Football season is creeping up on us, and Vegas is itching for people to chuck money their way. According to some very early betting lines, NC State legend, Los Angeles Chargers Quarterback Philip Rivers is tied for the 2nd best odds to win the 2019 NFL MVP Award.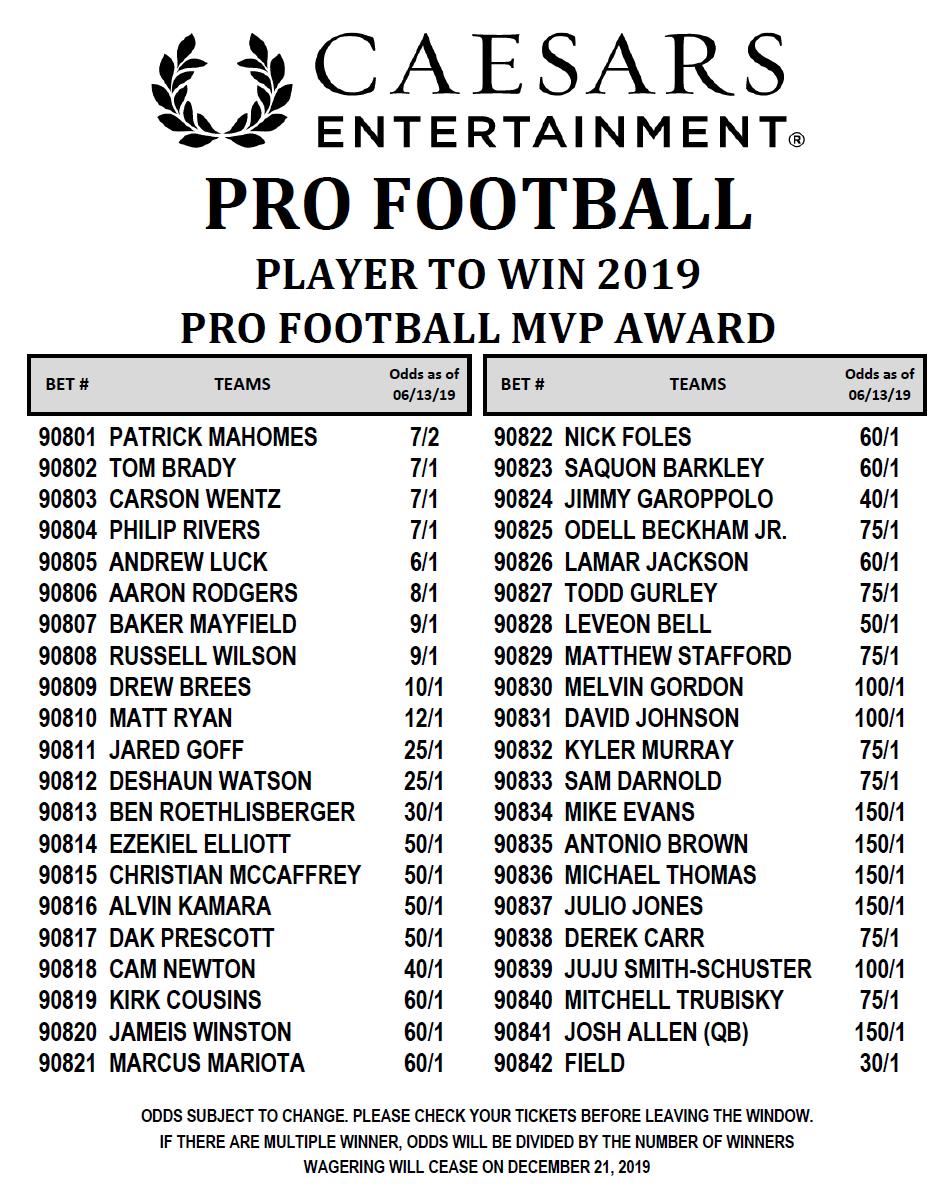 At the age of 36, Rivers' QB Rating of 105.5, 32 touchdowns, and 68.5% completion percentage, were all tied for the 2nd best marks of his 15 year career.
Last year Rivers ranked 8th in Completion Percentage (68.3%), 8th in passing yards (4,308), 6th in passing touchdowns (32), and 5th in QB Rating (105.5).
Rivers led the Chargers to a 12-4 record last year.