Germaine Pratt on 2nd Team in 1st Bengals Depth Chart
Former All-ACC Linebacker Germaine Pratt is making a splash in his first NFL camp, and is listed as the 2nd string Weakside Linebacker on the Bengals first Depth Chart of 2019.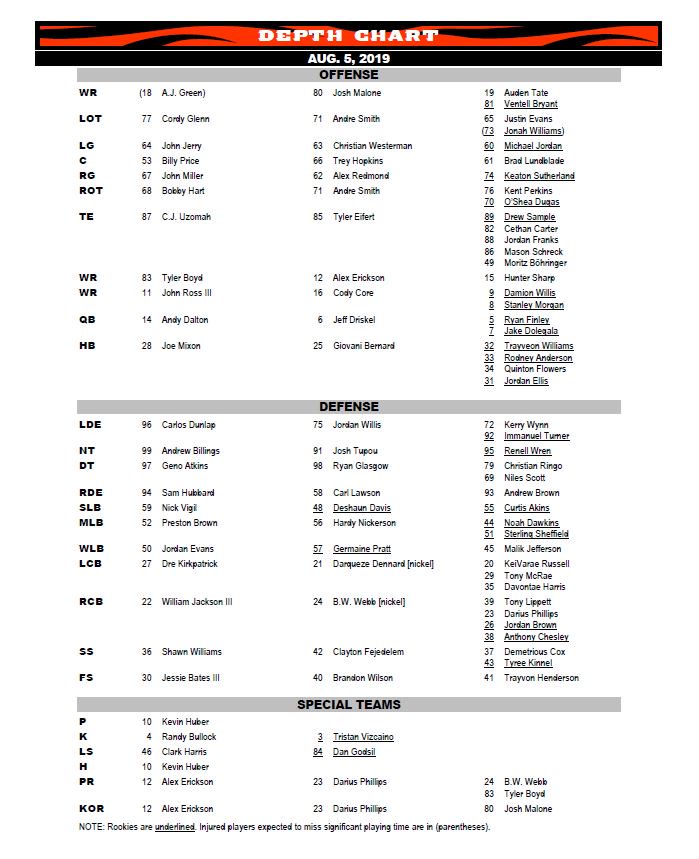 Pratt is already calling plays for the 2nd Team, so expect him to push Jordan Evans for playing time.
Thoughts on Pratt from Fall Camp
"He's talented. And he looks like he's gonna be a physical dude," Bengals linebacker Nick Vigil said. "He's a big dude. He's athletic, he's fast, he's smart (and) he wants to learn."

"He's looking good. He's 6-foot-2 and rocked up. He's definitely a physical specimen. He plays hard, smart in the meetings (and) can draw everything up on the board. It's great to have a young guy who knows what to do," Bengals linebacker Preston Brown said.

"Germaine is doing what I expected him to do. Between our scouting department and all the coaches, we had an idea of what we were getting with him," Bengals linebacker coach Tem Lukabu said. "He's doing a lot of the similar things that he did at N.C. State, communicating and being confident. The last things that come that we'll see are physicality and making plays on Sundays." (USAToday)
Pratt's Thoughts
"You just got to be ready when your number is called. That's the way I look at it. They drafted me to be ready. Third round, that's an early pick, they expect you to be ready and fill in," Pratt said. "Fill the needs of what the team needs to be successful. Whenever they call my number, I should be ready."

"Each and every day I'm trying to get better. I'm trying to improve each and every day because I'm trying to be game ready," Pratt explained. "Practice makes the game easier, so I just got to keep going hard each and every day and keep continuing to get better. That's my main focus."
"I want to make an impact. Whether it's on special teams or on defense, I want to make a big impact," Pratt said. "Anytime they call my number, I just want to be ready. It doesn't matter what spot they put me at. I just want to be ready for the opportunity." (USAToday)
NC State in the NFL: Week 14 Report
18 of the 20 former NC State players on active NFL rosters saw action in Week 14 of the 2019 NFL season. Check out a breakdown of how they did below.
After some wondered if Quarterback Philip Rivers (starter) would be benched after two dismal weeks in Week 10 and 11, the Wolfpack legend has rebounded mightily. After recording a QB Rating of 106.3 in Week 13, Rivers was near perfect in the Chargers' 45-10 thrashing of the Jags, with a QB Rating of 154.4, completing 16 of 22 for 314 yards and 3 touchdowns (0 interceptions). It was his best performance of 2019.
Philip Rivers' trash talk is amazing 😂

(via @Jaguars) pic.twitter.com/3MgMu1lt5C

— ESPN (@espn) December 10, 2019
Quarterback Jacoby Brissett (starter) rebounded, playing much better in the Colts' 38-35 loss to the Bucs. After three straight games with a QB Rating in the 70's, Brissett was 19 of 36 for 251 yards and 2 touchdowns (0 interceptions) for a QB Rating of 93.6.
Jacoby Brissett throws a 💣 to Marcus Johnson for 6️⃣ pic.twitter.com/Du4U4hPkRt

— uSTADIUM (@uSTADIUM) December 8, 2019
Linebacker Germaine Pratt (starter) led the Bengals with 8 tackles in their 27-19 loss to the Browns, playing 72% of the snaps. Pratt has started 5 straight games, and the 8 tackles were a career high.
Germaine Pratt's PFF grades since being named the starter. pic.twitter.com/oApjSXo0mX

— Jeaux Goodberry (@JoeGoodberry) December 9, 2019
Quarterback Russell Wilson (starter) played one of his worst games of 2019 in the Seahawks' 28-12 loss to the Rams, completing 22 of 36 for 245 yards and 1 interception for a QB Rating of 69.8.
Running Back Jaylen Samuels (starter) rushed the ball 7 times for 16 yards, and had 2 receptions for 18 yards in Pittsburgh's 23-17 victory over Arizona, playing 47% of the offensive snaps. It was his 4th start of the  year.
Place Kicker Stephen Hauschka (starter) was perfect, making all 3 field goal attempts (36, 47, 48) in Buffalo's 24-17 loss to Baltimore.
Defensive Back Juston Burris (starter) had 3 tackles and 1 QB Hit in the Browns' 27-19 victory over the Bengals, playing 32% of the defensive snaps.
Running Back Nyheim Hines rushed the ball 4 times for 1 yard, and had 4 receptions for 28 yards in Indy's 38-35 loss to Tampa Bay, playing in 56% of the offensive snaps. He also lost a fumble. Hines returned 2 punts for an average of 17 yards.
Center Garrett Bradbury (starter) played 100% of the offensive snaps in Minnesota's 20-7 victory over Detroit.
Terrible decision here by Kirk Cousins, but nice catch by Garrett Bradbury. The first of his young career.#Vikings punt pic.twitter.com/tsuwTc9bXI

— Sean Borman (@SeanBormanNFL) December 8, 2019
Since Week 5, #Vikings center Garrett Bradbury is PFF's #10 ranked center in terms of Pass Blocking Efficiency at 98.4%.

— Purple FTW! Podcast (@PurpleForTheWin) December 9, 2019
Offensive Guard Joe Thuney (starter) played 100% of the offensive snaps in New England's 23-16 loss to Kansas City.
#Patriots left guard Joe Thuney against the #Chiefs: zero QB pressures allowed, 88.9 @PFF pass-blocking grade. One of the most consistent players on the entire team.

— Evan Lazar (@ezlazar) December 10, 2019
Wide Receiver Kelvin Harmon had 1 reception for 30 yards (4 targets) in the Redskins' 20-15 loss to the Packers, playing 85% of the offensive snaps.
Excellent job by Dwayne Haskins staying poised in the pocket on 3rd and 13. Blitz gets picked up and he finds Kelvin Harmon open over the middle to pick up the first down. #Redskins pic.twitter.com/KwUHp46YaD

— Mark Bullock (@MarkBullockNFL) December 8, 2019
Wide Receiver Jakobi Meyers had 1 reception for 35 yards (3 targets) in the Patriots' 23-16 loss to the Chiefs, playing 57% of the offensive snaps.
Defensive End B.J. Hill had 2 tackles in the Giants' 23-17 loss to the Eagles, playing in 37% of the defensive snaps.
Offensive Guard J.R. Sweezy (starter) played 60% of the offensive snaps in the Cardinals' 23-17 loss to the Steelers. Sweezy was limited in practice last week due to illness, and has been limited this week as well.
Defensive Tackle Justin Jones (starter) had 1 tackle in Los Angeles 45-10 victory over Jacksonville, playing 77% of the defensive snaps.
Punter A.J. Cole (starter) punted the ball 5 times for an average of 44.2 yards in the Raiders' 42-21 loss to the Titans.
Offensive Tackle Will Richardson played 18% of the offensive snaps in the Jags' 45-10 loss to the Chargers.
Offensive Guard Ted Larsen played 5 Special Teams snaps in the Bears' 31-24 victory over the Cowboys on Thursday night football.
DNP
Quarterback Ryan Finley (Bengals)
Quarterback Mike Glennon (Raiders)
IR
Linebacker Bradley Chubb (Broncos) – knee
Defensive End Kentavius Street (49ers) – knee