Germaine Pratt on 2nd Team in 1st Bengals Depth Chart
Former All-ACC Linebacker Germaine Pratt is making a splash in his first NFL camp, and is listed as the 2nd string Weakside Linebacker on the Bengals first Depth Chart of 2019.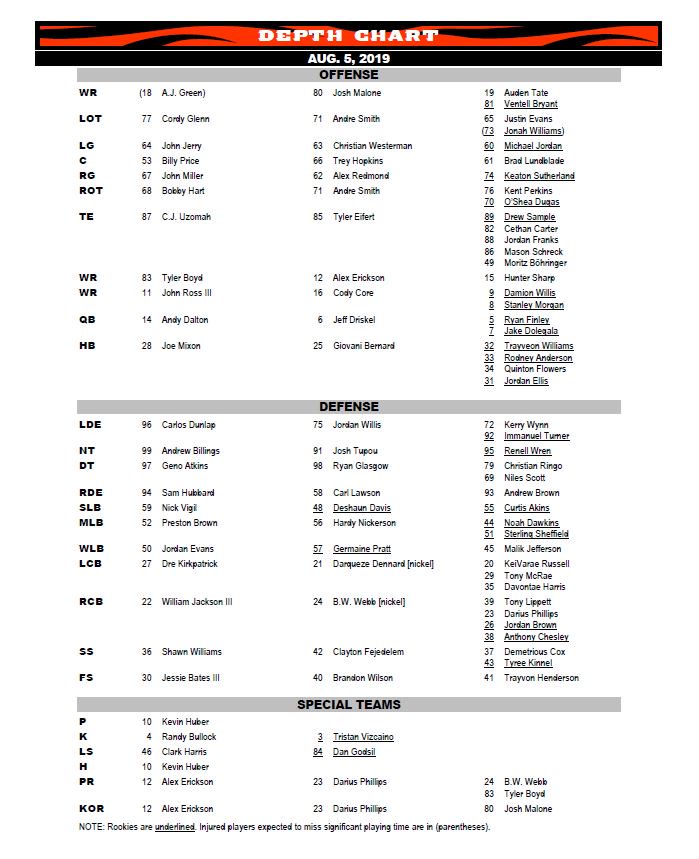 Pratt is already calling plays for the 2nd Team, so expect him to push Jordan Evans for playing time.
Thoughts on Pratt from Fall Camp
"He's talented. And he looks like he's gonna be a physical dude," Bengals linebacker Nick Vigil said. "He's a big dude. He's athletic, he's fast, he's smart (and) he wants to learn."

"He's looking good. He's 6-foot-2 and rocked up. He's definitely a physical specimen. He plays hard, smart in the meetings (and) can draw everything up on the board. It's great to have a young guy who knows what to do," Bengals linebacker Preston Brown said.

"Germaine is doing what I expected him to do. Between our scouting department and all the coaches, we had an idea of what we were getting with him," Bengals linebacker coach Tem Lukabu said. "He's doing a lot of the similar things that he did at N.C. State, communicating and being confident. The last things that come that we'll see are physicality and making plays on Sundays." (USAToday)
Pratt's Thoughts
"You just got to be ready when your number is called. That's the way I look at it. They drafted me to be ready. Third round, that's an early pick, they expect you to be ready and fill in," Pratt said. "Fill the needs of what the team needs to be successful. Whenever they call my number, I should be ready."

"Each and every day I'm trying to get better. I'm trying to improve each and every day because I'm trying to be game ready," Pratt explained. "Practice makes the game easier, so I just got to keep going hard each and every day and keep continuing to get better. That's my main focus."
"I want to make an impact. Whether it's on special teams or on defense, I want to make a big impact," Pratt said. "Anytime they call my number, I just want to be ready. It doesn't matter what spot they put me at. I just want to be ready for the opportunity." (USAToday)
NC State NFL Preseason Week 3 Report: Thursday
Week 3 of the 2019 NFL Preseason kicked off last night, and quite a few former NC State football players were in action.
Quarterback Ryan Finley was sharp once again, completing 14 of his 20 pass attempts for 155 yards in the Bengals 25-23 loss to the Giants (92.7 QB Rating). Heading into Week 3 of the 2019 NFL Preseason, legend Kurt Warner believed that Finley was the best rookie quarterback thus far.
Lots of eyes on Kyler, Daniel, Dwayne & Drew… but I'm here to argue Ryan Finley has been the BEST rookie QB up to this point! Go ahead and @ me… I can handle it!

— Kurt Warner (@kurt13warner) August 16, 2019
Wide Receiver Jakobi Meyers probably caught some grief after the game for his holding penalty and going 0-3 on attempts from Tom Brady, but he still proved to be one of the most productive receivers in the 2019 NFL preseason last night. Meyers had 7 receptions for 74 yards (12 targets) in the Patriots 10-3 victory over the Panthers. He is currently leading the NFL this preaseason in receiving yards (225) and receptions (19).
Wide Receiver Kelvin Harmon had 2 receptions for 37 yards on 3 targets in the Redskins 19-7 victory over the Falcons.
Nice ball by Dwayne Haskins to Kelvin Harmon. Went back shoulder with the DB still over the top. Imagine this is more what Haskins was trying to do on that first INT in the Browns game #Redskins pic.twitter.com/2O1o5FDxBL

— Mark Bullock (@MarkBullockNFL) August 23, 2019
Linebacker Germaine Pratt had 1 tackle, 0.5 sacks and 1 QB hit in the Bengals 25-23 loss to the Giants.
Defensive End B.J. Hill had 1 QB Hit in the Giants 25-23 victory over the Bengals.
Quarterback Mike Glennon was 4-9 for 38 yards in the Raiders 22-21 victory over the Packers.
Punter A.J. Cole averaged 42.2 yards per punt (6 punts), placing 1 inside the 20 in the Raiders 22-21 victory over the Packers.