#9 NC State Wrestling Opens Dual Season Tonight Against #26 Old Dominion
The #9 NC State Wrestling team will open their Dual Season tonight, hosting #26 Old Dominion in Reynolds Coliseum at 7pm.
The Wolfpack have won the past 5 duals with the Monarchs over the past 5 seasons, and hold a 15-5-1 lead in the overall series.
Below is a look at NC State's wrestlers that are ranked heading into the season opener.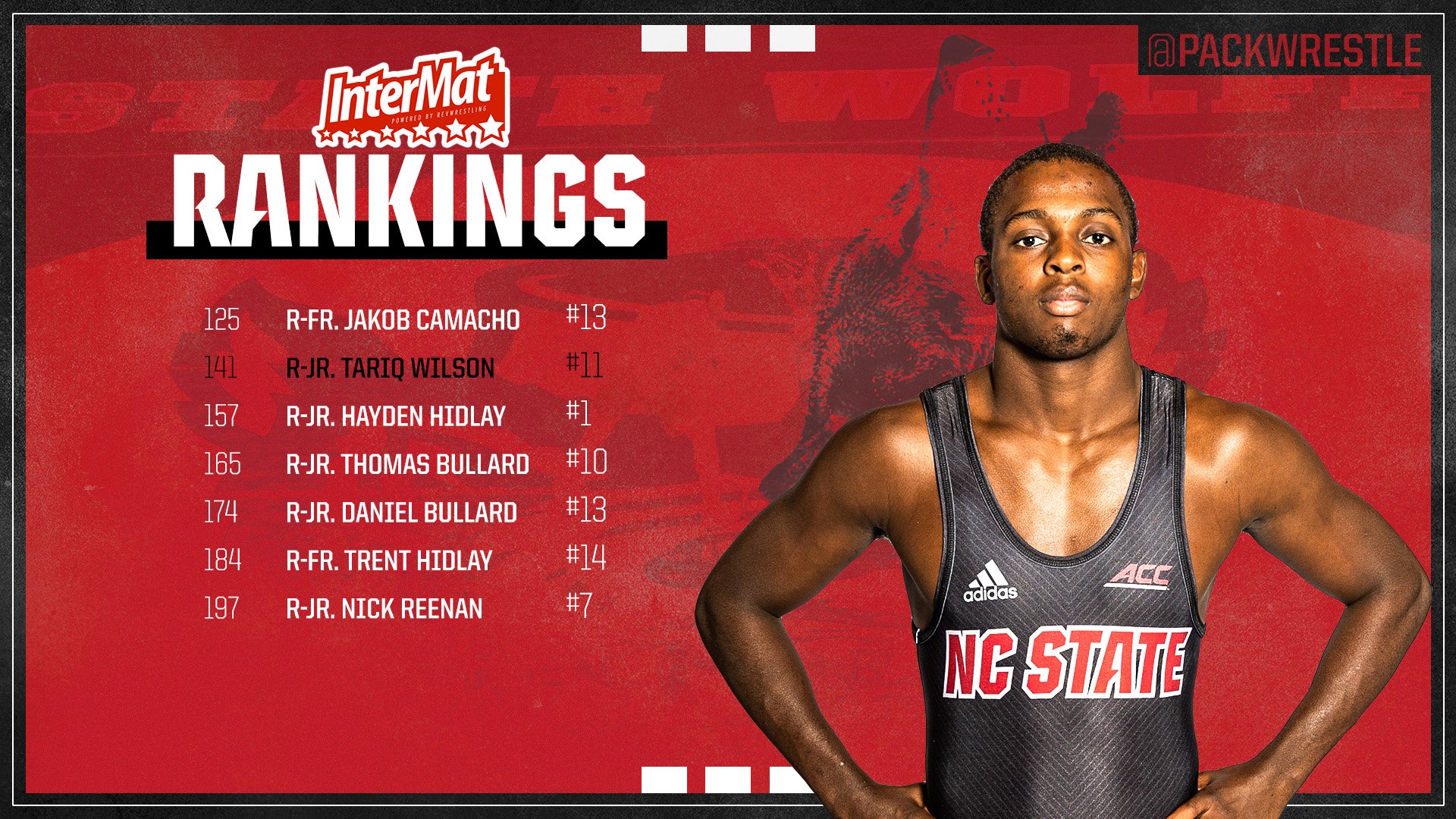 Duals have been NC State's bread and butter the past 5 years, leading the nation in Dual victories, and ranking 3rd in Dual Winning Percentage (89.3%).
Here's a look at the Top-20 matchups to look out for tonight:
125 pounds – #13 Redshirt Freshman Jakob Camacho – vs. #7 Junior Michael McGee – McGee has qualified for the NCAA's in his first 2 seasons, making the Round of 12 last year. MAC Champion.
141 pounds – #11 Redshirt Junior Tariq Wilson vs. #14 Redshirt Senior Sa'Derian Perry – Wilson wrestled his first two seasons at 133, earning All-American honors his first year, and barely missed the honor last year. His first ever match at 141 will be against Perry, who has qualified for the NCAA's two years in a row, and earned All-American honors last year.
157 pounds – #1 Redshirt Junior Hayden Hidlay vs. #4 Redshirt Senior Larry Early – This is the marquee matchup of the evening. Hidlay is the first Wolfpack wrestler to enter the season ranked #1 since Nick Gwiazdowski in 2016. This marks the 3rd time these two have faced off, with Hidlay taking the first match as a Freshman, and Early squeaking out a 4-2 victory last year. Hidlay has earned All-American honors his first two years, finishing 2nd and 4th respectively. Early finished 8th in the NCAA's last year.
It's worth noting that #7 Redshirt Junior Nick Reenan (197) will not be wrestling tonight, as he is still recovering from ACL surgery.
In a remarkable feat, NC State has been ranked in the Top-10 now for 60 consecutive weeks.
#6 NC State Wrestling Beats Appalachian State 24-12 on the Road
The 6th ranked NC State Wrestling team headed up to the mountains last night, beating Appalachian State 24-12 on the road, winning 7 of their 10 matches. The Wolfpack is now 7-0 on the year in duals.
#6 NC State 24, Appalachian State 12
141: #13 Tariq Wilson (NCSU) dec. Bradley Irwin; 6-2 – 3-0
149: #20 Jonathan Millner (APP) dec. A.J. Leitten; 5-0 – 3-3
157: #2 Hayden Hidlay (NCSU) major dec. #20 Matt Zovistoski; 16-3 – 7-3
165: #8 Thomas Bullard (NCSU) dec. Will Formato; 6-2 – 10-3
174: #17 Daniel Bullard (NCSU) dec. Thomas Flitz; 6-4 – 13-3
184: #2 Trent Hidlay (NCSU) major dec. Julian Gorring; 17-5 – 17-3
197: #4 Nick Reenan (NCSU) dec. Paul Carson; 4-3 – 20-3
285: #19 Cary Miller (APP) major dec. Colin Lawler; 13-3 – 20-7
125: Jakob Camacho (NCSU) major dec. Sean Carter; 14-6 – 24-7
133: Codi Russell (APP) tech fall Tommy Cox; 19-3 – 24-12 (GoPack)
Notes
#4 Redshirt Junior Nick Reenan (197) wrestled his first match of the year. He was about to start the season 0-1, before picking up a takedown with 6 seconds left, securing a 4-3 victory.
The lone ranked matchup of the night was #2 Redshirt Junior Hayden Hidlay vs. #20 Matt Zovistoski at 157 pounds. Despite the number beside Zovistoski's name, it wasn't much of a competition for Hidlay, picking up a 16-3 major decision.
#2 Redshirt Freshman Trent Hidlay (184) and Jakob Camacho (125) were the other two Wolfpack wrestlers to pick up bonus points, both winning by major decision.
Redshirt Freshman Jarrett Trombley didn't wrestle at 133 pounds like usual, and his replacement Redshirt Junior Tommy Cox lost by tech fall in the final match of the night.
Both of App State's ranked wrestlers won in matches they were expected to win.

#19 Heavyweight Cary Miller beat Sophomore Colin Lawler by major decision 13-3. NC State's regular heavyweight Deonte Wilson didn't wrestle.
#20 Jonathan Miller beat Redshirt Sophomore A.J. Leitten 5-0 in the 149 pound match.
The Wolfpack have a nice long break before their next action, starting off the new year at the Southern Scuffle on January 1-2 in Chattanooga, Tennessee.