NC State's Trent Hidlay Wins National & ACC Wrestler of the Week Honors
NC State Redshirt Freshman Trent Hidlay (184) cleaned up the honors after a historic week, earning National Wrestler of the Week honors from The Open Mat, and earned ACC Wrestler of the Week honors a week after his older brother Hayden Hidlay earned it in Week 1.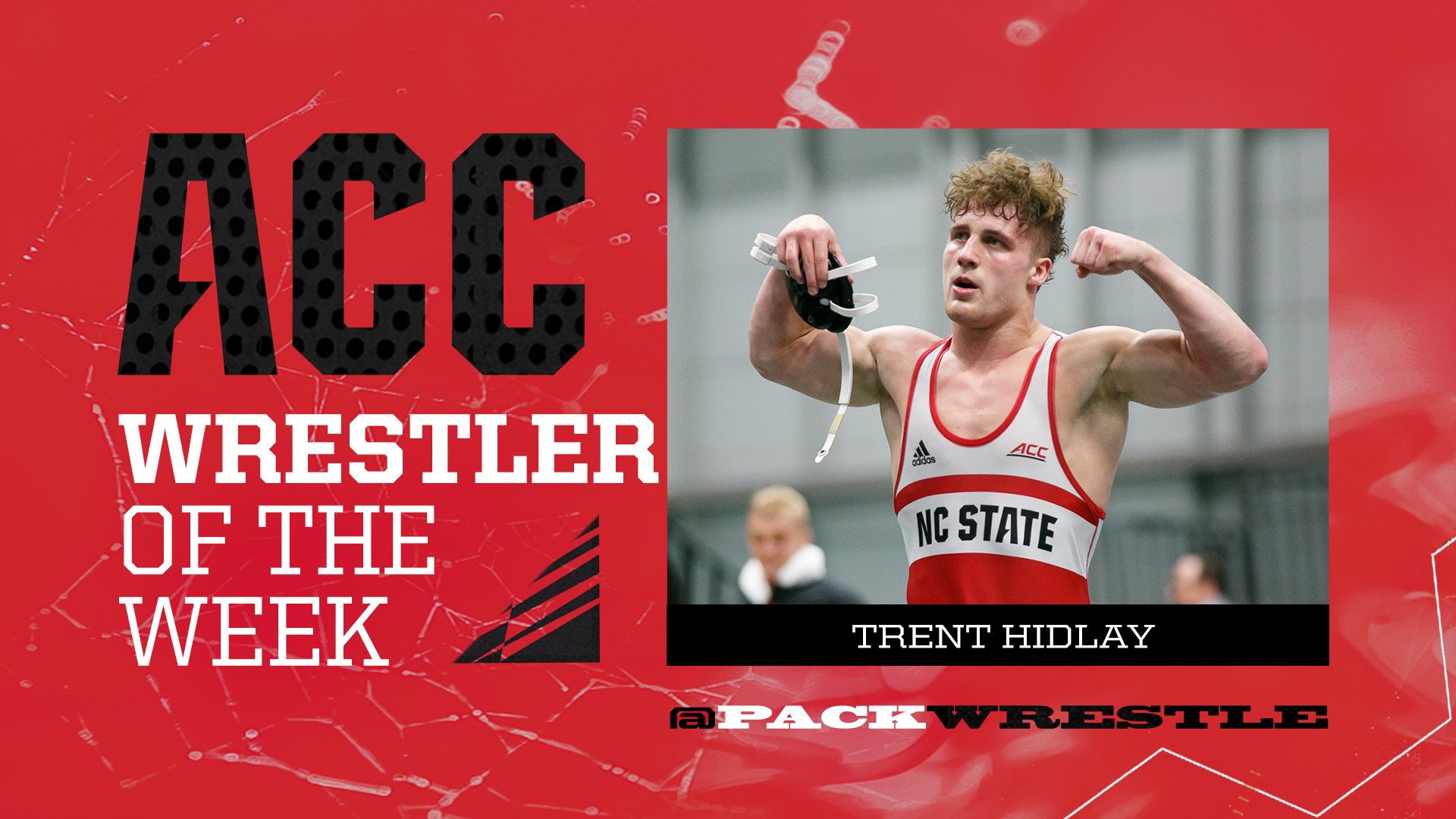 NC State 184-pound redshirt freshman Trent Hidlay has been named the Atlantic Coast Conference Wrestler of the Week after he defeated two top-five opponents on the road in a span of just a few hours.

Hidlay, also named the National Wrestler of the Week by The Open Mat, opened with a 7-5 decision over No. 5 Ben Darmstadt in the Wolfpack's 25-9 win at No. 15 Cornell on Saturday afternoon. With the score tied 4-4 and ride time locked for Darmstadt, Hidlay forced a second stall and then notched the winning takedown with just 12 seconds left.

Later in the day at Binghamton, Hidlay downed No. 4 Lou DePrez in extra time, 2-1, to help NC State to a 28-9 team victory. Hidlay and DePrez were knotted at 1-1 with just three seconds showing on the clock in overtime when Hidlay's escape produced the winning point.

Trent Hidlay moved from No. 12 to No. 4 in this week's InterMat weight class rankings. He followed up last week's performance by his brother Hayden, a junior two-time All-American at 157 for the Wolfpack who earned ACC Co-Wrestler of the Week honors for Nov. 19. (ACC)
NC State's Pat Popolizio Earns 2020 ACC Coach of the Year Honors
NC State Wrestling Head Coach Pat Popolizio has been named the 2020 ACC Coach of the Year.
Pat Popolizio is our Coach of the Year! @PackWrestle's unbeaten dual season (15-0) was the first in the 91-year history of the program.🐺

The Wolfpack ended the year ranked No. 3 nationally. pic.twitter.com/FReAwzOF0T

— @ACCwrestling (@ACCWrestling) March 31, 2020
Under the leadership of Popolizio, NC State was undefeated in duals (15-0) for the first time in school history. He led the Wolfpack to an ACC Championship for the 3rd time in his time in Raleigh. The ACC title was NC State's 17th in school history, tying UNC for the most in conference history.
This is Popolizio's 2nd time winning the award. In sum, 3 NC State coaches have earned the honor, a total of 9 times now.
NC State finished the season ranked 3rd heading into the NCAA Tournament.