NC State's Will Wilson Selected To Los Angeles Angels In First Round Of 2019 MLB Draft
RALEIGH – Junior shortstop Will Wilson was selected as the No. 15 overall pick to the Los Angeles Angels of the 2019 Major League Baseball (MLB) Draft on Monday evening.
The Kings Mountain, N.C., native becomes the first NC State player to go in the first round since Carlos Rodon (LHP) and Trea Turner (SS) in 2014. Wilson graduated last month with a business administration degree and wrapped up his collegiate career on Sunday in the NCAA Greenville Regional.
In his 23rd season at the helm of the Wolfpack, head coach Elliott Avent has now had 106 players selected in the MLB Draft.
In his final season at NC State, Wilson led the team with a .335 batting average, 20 doubles, 16 home runs and a .661 slugging percentage, and finished eighth all-time in career doubles (57) and homers (39), and ninth in total bases (409).
Wilson collected numerous postseason awards over the past few weeks, as he was named NC State's first-ever ACC Defensive Player of the Year as well as an All-ACC First Team Selection and Second Team All-American by Collegiate Baseball. Additionally, he was recently tabbed one of five finalists for the Brooks Wallace Award, which is given to the nation's best college shortstop.
He additionally collected All-ACC honors and All-America honors in his first two seasons with the Pack, and was a Dick Howser Trophy semifinalist, which is awarded to the nation's best college baseball player, in 2018.
NC State Releases 2020 Baseball Schedule
The NC State 2020 Baseball schedule was released today.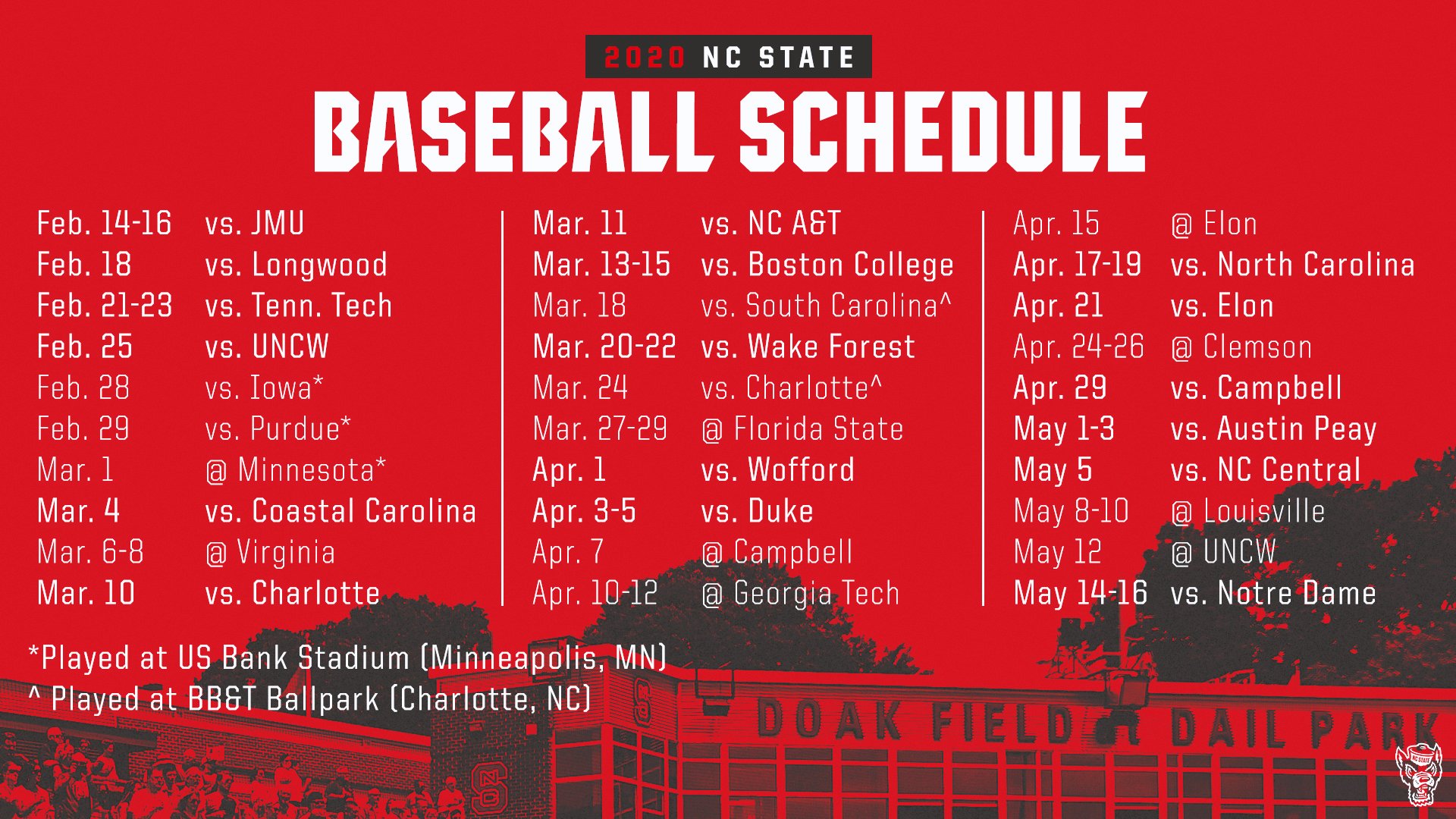 The schedule features 23 games against 2019 NCAA Tournament opponents, including three-game series at Florida State and Louisville, who both advanced to the College World Series last season. The Wolfpack's slate additionally features 13 opponents and a combined 31 games against teams that finished the 2019 season among the top 100 of the NCAA RPI.

NC State's nonconference schedule is highlighted by games against Iowa, Minnesota and Purdue Feb. 28-March 1 at the US Bank Stadium, home of the Minnesota Vikings. The weekend in Minneapolis is a part of the ACC/Big Ten Challenge. The Pack will also play a pair of games at BB&T Ballpark in Charlotte, N.C., home of the Charlotte Knights, AAA affiliate of the Chicago White Sox, against Charlotte and South Carolina March 18 and 24, respectively. (GoPack)
NC State finished the 2019 season with a 42-19 record, and a 18-12 conference record. They finished the regular season ranked 13th nationally, and 3rd in the ACC.
The Wolfpack finished the year ranked 21st in the final Collegiate Baseball Rankings.